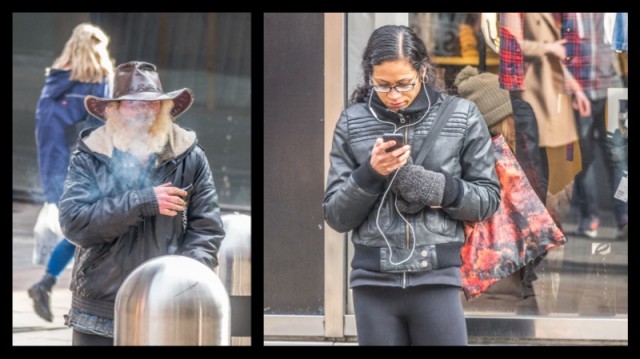 Rather a late and lazy start to the day.  Possibly too much Laphroaig last night, if you can have too much of a good thing, that is.  So, later than anticipated, I took the Megane for its wash and brush up for being a good car yesterday and not giving me a showing up at the MOT garage.  It felt better to drive after the car wash, but that was partly due to it having a service yesterday.  Cars always drive better after a service.  I know it's probably a psychological thing, but it is partly practical too.  Still a couple of things to put right before we drive any long distance runs.  Rear brake disks need replacing and the front tyres are also needing replaced.  If it had been to Arnold Clark for the last three MOTs it would have had to have the disks replaced and the wheel cylinders replaced too every time, I'm sure.  Bunch of sharks.  I digress, as usual.
I drove in to Glasgow and to limit my wandering about time, decided to park at a meter.  Found one near to the bus station and went to pay the ticket.  After decoding the parking cost/time formula I proceeded to dump all my loose change into the ticket machine.  Almost got to the two and a half hours I needed and the message "Take your money back" appeared and all my change rattled out.  I assumed the machine was knackered and went to another where the same thing happened!  Is there a limit to the amount of coins you can put in these machines?  It's never happened to me before.  I can only think that the money box in the machines was full and couldn't accept any more cash.  I didn't have any pound coins, so I had to abandon that idea and go to the expensive Concert Hall carpark where, despite the sign saying "Car Park FULL", there were indeed spaces in our usual secret dungeon.  Best kept secret in Glasgow.
Wandered down Bucky Street and took some photos of folk that looked interesting.  One bloke who stands there hail, rain and shine with a sandwich board saw me and turned his back which was a great shame as he has an interesting face.  Maybe I should ask him next time if I can have his photo.
I had a last visit to the Art Store before it closes next week.  There wasn't much left.  The shop is all but gutted now.  Almost nothing left.  No brushes, paints, pencils, canvasses or sketch books.  A few pens and some pastels, but nothing worth talking about.  Everything was 75% off.  I saw an old woman pocketing a couple of packets of pencil leads.  Sales assistant watched her and just shrugged his shoulders.  If she'd bought them, they would have cost a few pence.  Some folk have no decency at all. Not been doing very much painting or drawing recently.  Must get started again.
Egg pizza for dinner, but went in to Collins & Son butchers on the way home and bought a couple of nice sirloin steaks, one of which is in the fridge destined to be tomorrow's dinner.  Got loads of other stuff too, almost all of which is now in the freezer.  It's good to go to a real butchers rather than Tesco.  The meat just looks better.  It's been our aim for the past few years to buy from indepenedents where possible.
Weather for tomorrow doesn't look inspiring.  Don't have a plan.  The Easy Rider mentality, only I won't be stamping on my watch in the morning (see the film to understand).