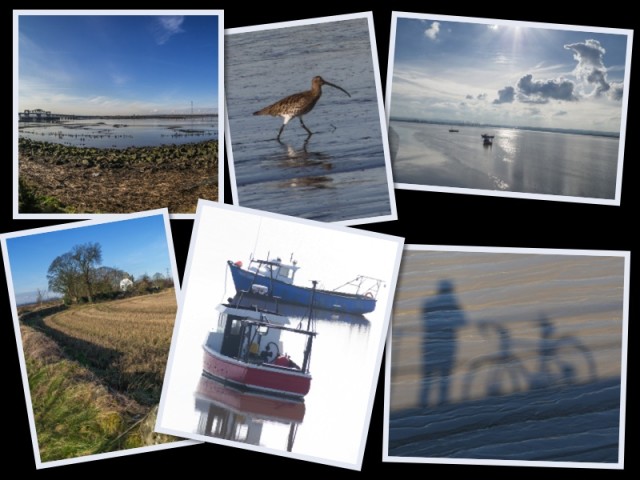 Beautiful morning. Seemed a shame to waste it, so I got my bike on the rack and drove over to Culross (sorry Hazy, take that look off your face). I parked and cycled along the footpath back to Kincardine. The going was fairly easy. A few slight slopes, but nothing very strenuous. However when I was freewheeling down one hill, I just thought it might be a bit of a challenge on the way back. Took some photos of the bridges, Kincardine and Clacks (short for Clackmannanshire Bridge). Why are people paid to decide the names for bridges, then come up with a mouthful like Clackmannanshire Bridge? They know fine well that the folk that stay there and the ones that use it will make up their own names for the crossings. Clacks Bridge sounds so much better. Nothing to do with Diskworld though.
While I was there an old guy wheeling a bike came along. I say 'old' but he was probably about the same age as me. He spoke to me, but I couldn't make out what he was saying.  I thought he might be Polish. He repeated it and still I couldn't make him out. It was only when he turned and said very slowly, "It's nice to see a bit of sun" it twigged that he'd said "It's a grand day". His Fife accent was so thick it was almost impenetrable to my Lanarkshire ears. I agreed with him and he went on his way to the boat yard where he laboured a bit hauling a rowing boat down the jetty and setting off in it.
I'd just finished taking shots of the bridges and the mountains beyond and was ready to come home when I turned and saw the three wee boats sitting on the water with the beautiful cloudscape behind. Camera back out and got another load of pictures. The Oly isn't tamed yet. It kept overexposing (sounds naughty, but it just means the photos are very pale) so when I got home I changed the exposure setting to Auto. That's something I never do.
The run back was uneventful except, remember that hill? I was right, it was a killer on the way back. Got my blood pressure up and my pulse racing. Does you good to get out somewhere on a real bike, not a computer simulation.
Sirloin steak for dinner. It was lovely and I felt I'd earned it today.