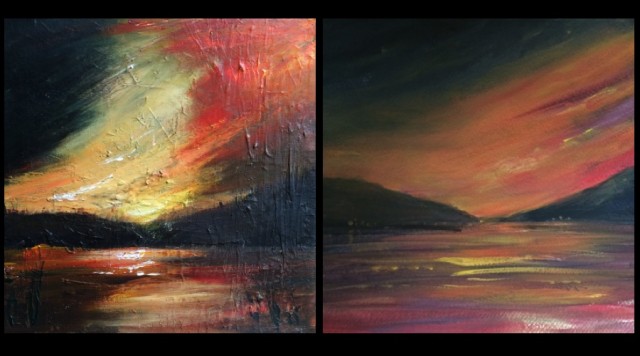 A sunny, cold start again. This time it started with the mercury not quite managing to crawl above the zero line. To use less prosaic language, it was about -1.5ºc at 8.30am.  The good, cold weather stayed most of the day.
Scamp went to arrange a spring holiday for us. I went to meet Fred as the world needed setting to rights again. After we both returned, I thought the world had indeed been set on its axis again, then Scamp told me that the travel agent's phone and internet wasn't working and even worse, the holiday she was going to book was no longer available. Fred and I had spent over an hour and a half making sure everything was sorted and then BT steps in an screws everything up.
Bean soup for dinner. Which begs the old joke: "I don't care what it was, I want to know what it is now"
Tomorrow we were going to Embra, but it looks as if we are going holiday hunting now. Hope BT have got their act together.
Today's photos are the results of my recent painting.