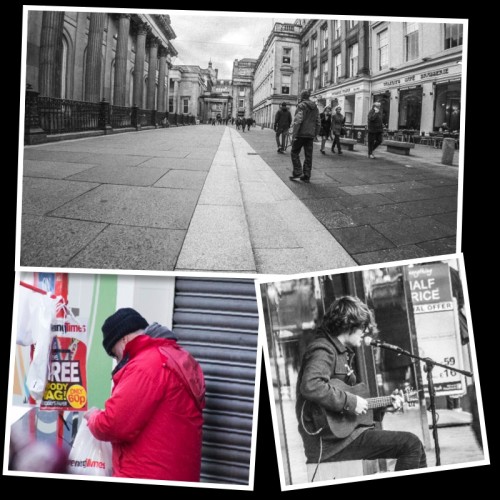 We finally got a holiday booked for Scamp and I.  We were beginning to think that we wouldn't get away at all, but now we are good to go.
Went in to Glasgow today.  Couldn't decide at first whether to go to Stirling or Glasgow, but I wanted to have a look at a camera and I was pretty sure I could get my hands on it in Glasgow.  There was no chance of seeing a camera in Stirling.  With that in mind, we headed for Glasgow in the afternoon.  Other than visiting the travel agent and then Jessops, it was just a quick trot round the shops, then home.  There was one surprise, the Art Store in Queen Street was offering everything in store at 50% off.  That may sound good, and indeed there were bargains to be had, but it made me wonder if this is another independent art shop that has gone to the wall.
The camera was not as good as I had hoped it would be.  It was an Oly E-M5 and I got my hands on it in John Lewis.  First impressions were that it felt a bit clumsy and not as neat as the E-PL5.  I then tried it's newer sibling the Oly E-M10 in Jessops.  It was neater and more ergonomic than the older E-M5, but still didn't make me want to part with my money.  I had no intention of buying the camera from either of these shops.  I only wanted to use them to get my hands on them and give them a bit of comparison.  If I was going to buy one, I'd go to one of the second-hand dealers on the net like MBP in Brighton.  Anything I've bought from them has been really good quality and was at least a third off the price when new.
Three shots today from our walk around Glasgow.  Nothing outstanding, just a few candids.
Cold and bright in Glasgow.