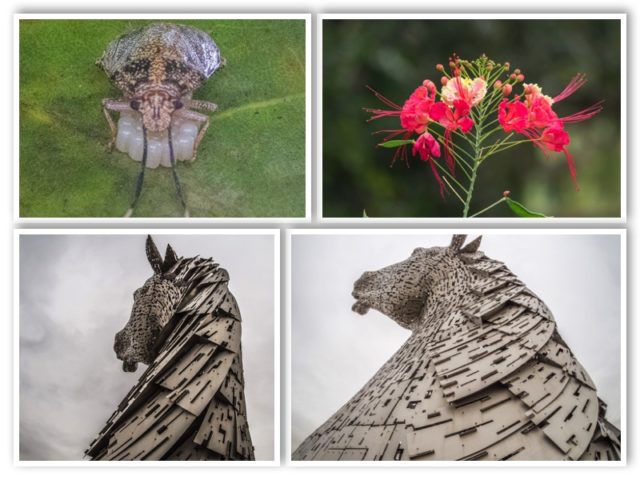 Scamp wanted to get to Dunelm Mills in Falkirk today to get sheets.  I didn't, but in the same retail park there was a Hobbycraft shop and that did me nicely for diversion while Scamp was choosing exactly the right set of sheets.
When we left there, she was the one who suggested lunch at the Kelpies in Helix Park.  It was a good choice.  We got a seat near the window where we could gaze out at the Kelpies.  You've always got to capitalise their names, because they are celebrities and deserve the honour.  After lunch (Potato Wedges for Scamp and Chilli for me) we went for a walk round these gigantic statues, just to say hello again.  It becomes more and more difficult to find a new angle on these giant horse heads, but I think I managed it again.  I tried to get a reflection of them, but the water, although still, was too murky to produce the effect I was looking for.
On the way home we stopped at Lidl in Kilsyth to get milk and beer.  We left after filling two bags and spending about £14.  We did buy more than our shopping list, but we did get milk and beer.
I have had a sore back for a couple of days, so when we got home, I packed my swimming stuff and went for a relaxing swim and a soak in the steam room.  Wow!  The pool was empty.  Not a single soul in the water, but there were 9 ladies in the jacuzzi happily chattering away while it was on its cleaning cycle.  Now, I've looked in the jacuzzi while it's cleaning and I wouldn't sit in it.  I don't know what chemicals surge round its whirlpool, but they are certainly not meant for contact with the skin.  Still, it's their life, their skin, their health they are damaging and the warnings are there for the few of them who can read.  There were also about twenty other spray-tanned spa damsels spread around the deckchairs.
I Went to go in to the steam room but was warned that someone had had a nosebleed inside and it was being cleaned.  Sitting in the sauna, I watched four folk go in.  About ten minutes later the cleaner went in too and then came out to sluice away a bucket down a drain.  Presumably he had cleaned up the mess while the other four jokers were in there.  H&S?  Not a speciality of Westerwood these days.
Pizza for dinner.  Home made pizza.  Most enjoyable.
A well as the Kelpies, I've included a couple of pics from Madeleine and Jaime's garden in Trinidad.  One of a beautiful red flower and another of a shield bug.
A day in the Toon tomorrow hopefully.  No driving, it's a bus day.  Yesterday, Saturday looked a good day.  Today it's not seeming so likely.  It won't bother us, lunch is booked.