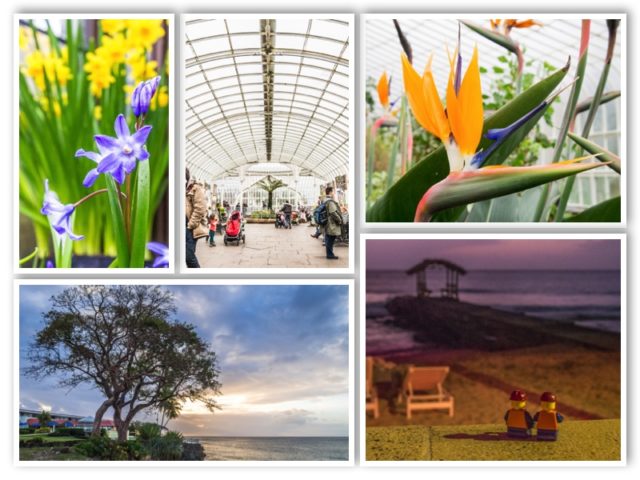 Scamp had booked us a posh lunch today at the Blythswood.  It was an Itison voucher lunch, but a posh one, none the less.  This was our second posh lunch this week.
As it happened, neither of us were over impressed with the Blythswood or the lunch.  Now don't get me wrong, the food was good, just not great and the surroundings were nice, just not all that impressive.  Maybe we are being over critical or maybe places like this aren't trying all that hard for the voucher brigade.  I don't know what the answer is.  The food was Smoked Hake starter for Scamp and Chicken Liver Parfait for me, followed by Chicken Supreme for both of us.  Like I said, good but not great.
After lunch we got the subway out to Byres Road and walked through the Botanic Gardens which are celebrating their bicentenary this year.  Usually we just walk through the Kibble palace, but this time we took in both glasshouses.  Oh, it was almost like being back in Trinidad with the heat and the humidity.  However, alas and alack, when we came out it was just Glasgow humidity.  It was raining.  Not heavy rain, just a Scottish smir.
We thought we had nothing more to do than dodge across the street and go for a drink in Oran Mor.  Unfortunately, that was not to be.  The place was mobbed.  Not a seat to be had anywhere.  Most of the punters seemed to be engrossed in Scotland getting gubbed by the english again, at rugby this time.  Instead of a drink, we walked down Byres Road and got a piece of Tuna for tomorrow's dinner, then got the subway back into town and walked up to get the bus home.
Just as the driver started the engine, I saw this wee wummin running across the road, arms outstretched like a scarecrow, carrying two bags in one hand and one in the other, trying frantically to catch the driver's eye.  As he put the bus into reverse to exit the stance, I saw her visibly deflate as she realised that she had another 30 minute wait in front of her, because he wasn't going to open the bus doors.  I don't know what she said, but I'm sure it wasn't "Oh dear".
<Technospeak>
Back home, I think I've parted company with Dropbox.  It seems that my temporary term with 10GB of storage is rapidly coming to an end and the 2GB I'll have in a week or so just won't cover my requirements.  So I have to move my backup to Google Drive which generously gives me 15GB.  There is a 'but' and the 'but' in question is, 'but it is the very devil to set up'.  I'd read up on it last night and didn't understand a word.  Tonight I found a YouTube video explaining in words of one syllable how to do it, so I got started.  After an hour and a half of setting up a project, getting a 'secret', authorising it, failing, authorising it again, failing, resetting my 'secret' before authorising again and this time succeeding, it now seem that I have a new home for my WordPress backup.  I felt a bit like the wee wummin.  I had just thought I'd caught the Google Driver's eye, but then he pulled out of the stance.  Never mind, it's done now and I hope the wee wummin is home with her three bags full.
</Technospeak>
Today's photos are from the Botanic Gardens and also a couple from Tobago.  You see Hazy, Shug and Tam did go on their holidays.
Celtic are at home to Rangers tomorrow.  We're hoping to go for a walk down "The Green".  Need to go early to avoid the battles.