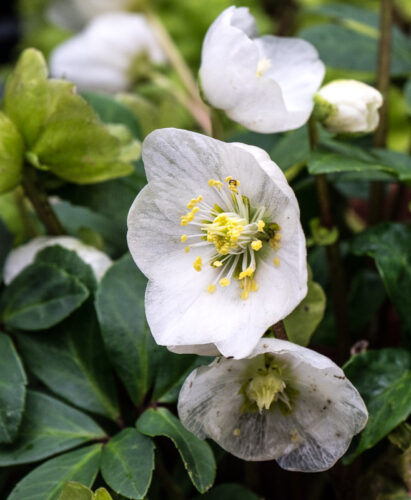 It was raining in the morning and it's raining now, at 23:57. It hasn't stopped raining all day.
Today was a day for finding things to do inside. Scamp made a start with putting up our four Christmas cards and some of the decorations. I followed suit by clearing the dining table and together we covered it with the Snowman™ table cover. I bought it many years ago and worried that I'd paid too much. It's paid for itself many times over since then. It always brings a smile to our faces, even in such trying times.
With that done and after lunch I intended to take a walk to the shops, but after I opened the door I changed my mind. These are the days we bought the car for. Days when you don't want to come home dripping with rain. Not exactly soaked to the skin because the Goretex in the Bergy works so well, but not feeling totally comfortable either. Waltzed into M&S and stocked up on oranges, grapefruit, chicken and a curry each for tonight's dinner. Went to the till and that's where the magic happened.
After I'd scanned all the messages, I scanned my M&S card and got a message to the effect that today as a special surprise, my purchases were all free! I checked with the till assistant and she confirmed that tonight's dinner was on M&S. Scamp has had one of the M&S cards for months, probably over a year and has never got much more than a bag of Percy Pig sweets. I won over £25 worth of groceries and I've only had the cards about a month! Almost walked back because I was still in shock at my good luck, then I remembered I'd brought the car and drove home.
Today's PoD is a Christmas Rose growing in the garden. I risked the rain to get its photo. According to Scamp's records it's a Helleborus niger "Christmas Carol". It was very pretty sitting there in the rain brightening up that corner of the garden.
I did attempt a picture of the letter M subject, but I wasn't impressed with it and a bottle of beer followed by a glass of Hortus Gin from Lidl put paid to any and all attempts to improve it. Hopefully tomorrow will be more fruitful.
We have no plans for tomorrow other than a Zoom dance at night for which we practised tonight. We even attempted a medium paced salsa track and had to sit down to allow the room to stop spinning afterwards.