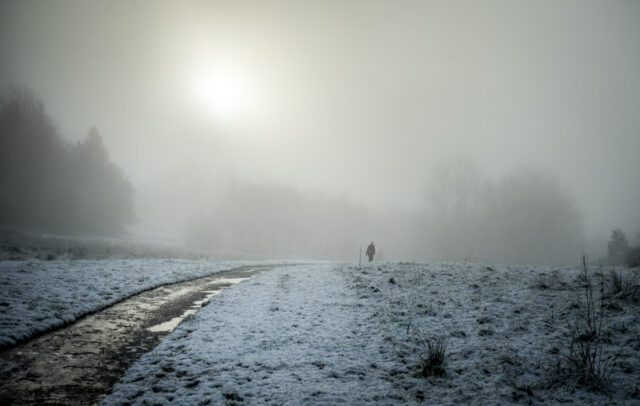 It rolled in on silent wheels today.
When we were having breakfast the snow was crisp and even. The hills were clear and there was just the hint of sun. Within an hour the hills had disappeared, as had the sun. Then the fog drifted down and the snow was turning into slush. I decided to go out and get an early(ish) moody photo in the fog. I waited on the path to St Mo's to let a girl get past, because the slush was starting to freeze. It also gave me time to frame her into the shot you see here. I didn't realise then, but that was to be PoD. By the time I'd walked into St Mo's, the fog was lifting and the temperature was dropping. Scotland, the weather here just can't stand still, it needs to be constantly changing.
Got another shot in the thinning fog of an old tree in the park with the faded forest in the background. Very moody and etherial. You can see it in Flickr. I wanted to get a shot of the ladybirds I'd seen yesterday (and also on the 3rd of December 2017 – how neat is that!). However, the light was a bit low and the snow was melting on the branches of the trees and it was just too uncomfortable. I got half a dozen shots and decided enough was enough. My feet were wet, my hands were freezing and I was going home. I got a few more icy and snowy shots before I stumbled home.
Scamp wanted some stuff in Tesco and we didn't have a delivery booked until the 17th, so we decided to do it the old fashioned way and go to the shop. Beside which, Scamp wanted a look around, because sometimes you see things (too many things sometimes) that you'd forgotten to put on your list. So, we drove to Tesco. It's the first time Blue has been out in the snow and it seemed to perform well. Not a hint of slipping and sliding. There were fairly long queues for the checkouts as we'd thought there might be. We had just reached the front of our queue when this woman appeared and seemed to want to sneak in front of us. Not that's a red rag to a bull.
"Eh. Excuse me, there's a queue."
She looked nonplussed and said "I've been waiting here for a while. My husband has been keeping my place."
"So have I" I said, "And I've been waiting IN THE QUEUE." (the poor bloke hadn't been in the queue)
She still wouldn't give in, so I said quite loudly "SO, ARE YOU JUST GOING TO SHOVE IN THEN?" Loud enough that everyone nearby could hear.
At that she harrumphed and said "Well, if you're going to be like that …" and walked down the aisle to the self service checkouts dragging her husband on his lead. Poor man. He'll suffer for that later.
Back home we got our first Christmas cards of the year and got the decorations out of the loft. We also changed the upstairs and downstairs curtains. Tomorrow we are hoping to put the tree up. After that, I'm sure we'll feel a lot better.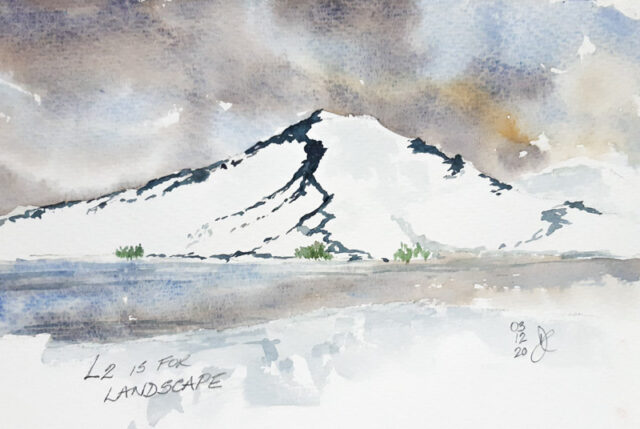 Tonight I painted the landscape that was in my head for yesterday. I really didn't like the sketch of the tin of lager. The lager is good, but the drawing wasn't up to standard. Tonight's landscape, although one of my standards was much more satisfying to paint and also looked better than the tin.
Since I've now found a way to extract the data from the old NAS disk, I'm going to make a fresh start with a new NAS. Ordered it from Amazon tonight and it's not a WD My Cloud. It's a Synology DS220j. The WD worked quite well for the three or four years I had it, but it was erratic. Let's hope this one is better.
It looks like more snow is forecast for early tomorrow morning and it's -0.6º just now, so I doubt if we'll be going far.