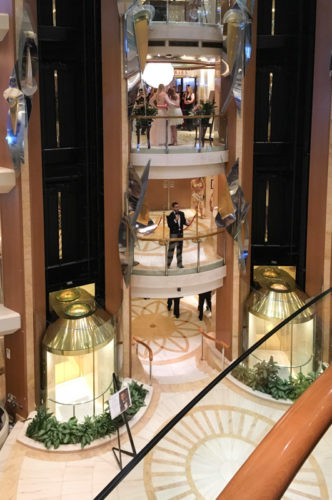 Today was a sea day.
Some folk say sea days are boring – nothing to do – nothing to see but the sea, but that's not really the case. After a good breakfast we were off wandering around the ship again and then finished our unpacking. Tonight was a 'Black Tie' dinner, the Captain's reception. A chance for a weak glass of whisky or gin and a chance to hear Captain Bob's attempts at humour, or maybe he'd just give us the safety talk again in case there was someone on board who hadn't been bored rigid yesterday. Later in the morning we went to a dance class – Jive, but this was Ballroom Jive, not Glasgow Jive, although the couple who took the class were Scottish so that was a tick in the right box.
After lunch we went to a Salsa class, but it was all talk and stepping through the moves which is boring. There wasn't much dancing. I don't think I'll go back to this one. At least in the Jive class we got ample opportunity to dance to some music. After that we went for a splash in the 'big' pool. Big is a bit of a misnomer as it's anything but big. However, it's the biggest pool on this medium/small ship. It got very busy, very quickly but we did, at least, get wet.
Second ballroom class of the day in the afternoon and it was more of a sequence jive dance. I've always hated sequence dancing, but this one had more fun than some. We had to leave early to get ready for the Captain's Party and the free alcohol, while avoiding the speech.
Dressed in kilt, white shirt, black (well, almost black, frog bowtie) and waistcoat plus all the gubbins that goes with 'highland dress', we made our way to the Atrium. Met a woman who complemented me on my kilt and asked what clan it was. She was English, but her mother was a McDonald from Ayrshire, Maybole of all places.  Another man slightly one over the eight asked me what regiment it was, then told me I was wearing Black Watch.  I tried to explain to him that it Clan Campbell, but he wouldn't listen.  He was either guttered or english, it's difficult to tell the difference.
Listened to Captain Bob attempt some humour and realised why he hadn't thought to inject some into his speech the previous night. Whisky was cheapest they could find, Gin was thin, gave up and went for dinner which Scamp had booked in Cafe Jardin which used to be the hot chocolate place in the old version of this ship. Ahh! If only Cap'n Bob took some lessons from Noel, our waiter in Cafe Jardin, he'd be a hit with more than the sycophants. Noel, probably not his real name, sold us a bottle of sparkling water telling us it was an excellent vintage and he could recommend it. It's the little things like that, that give a place a good name. Food was good. Scamp had Piedmont Red Pepper as starter and SeaBass with Cannellini Bean Mash and other stuff! I had Tiger Prawns and Tuscan Sausage then Rustic Chicken Supreme and Parma Ham with other stuff. We were supposed to have three desert plates each from a choice of six, but we chose only two each. Noel knew better and brought us all six! I'd list them, but you'd only be jealous. My favourite was Italian Poached Peach and Scamp's was Affogato. All that for £15 for the two of us!
Tried dancing at night after I'd divested myself of the highland dress. I've danced salsa in a kilt before and it's do-able, but the brogues have a mind of their own on the dance floor. Kept crashing into other folk on the dance floor. Tried dancing the Jive stuff we'd learned and gave up because I couldn't remember the sequence. Finally gave a Salsa demo par excellence to show that we CAN dance!
PoD is boring Cap'n Bob giving his speech to …  Well, it looks like nobody was listening, but believe me there were brown-nosers aplenty eager to laugh at all his every attempt at humour.
Bed after a long day. Sea days are so boring, you know!