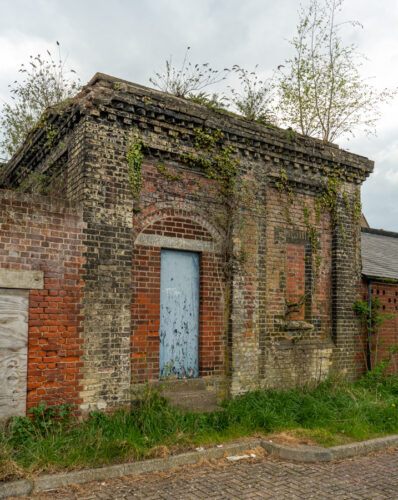 You could say were were in train-ing for a holiday. You could say it, but only if you were into bad puns.
There wasn't a lot to say about the day:
09:30 Taxi to the station.
09:45 Train to Edinburgh – First Class, of course.
11:00 Train from Edinburgh to Peterborough – First Class again.
14:45 Arrived in Peterborough after a somewhat disappointing lunch. A veg wrap for Scamp and a tub of veg salad for me. We made up for it with alcohol, though!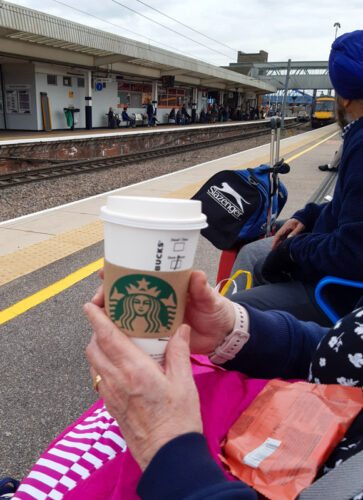 An hour to hang about in Peterborough station waiting for the next train. There's not a lot to do in Peterborough station if you're not a trainspotter, but I did get a photo of Scamp with a <spit> Starbucks latte, or Babychino as she described it.
15:50 Train from Peterborough to Stowmarket.
17:15 Arrived in Stowmarket.
Couldn't find Simonne who was our chauffeuse for the final leg of the journey. She said she was in the car park, but she must have been lying … or else, there was more than one car park. Aha! There was another car park and there was Simonne! Hooray, we will go to the 'new' house!
It was only about a fifteen minute journey to Old Newton. After meeting and being greeted by Vixen, we went on a tour of the house, complete with the 3'-6"high doors. Almost like half a door, given that the width of it was normal. It was just the height that was a bit disconcerting.
When Jamie got home, later, it was too dark to get a tour of the garden. Instead, we had dinner of Thai Fish Cakes, which we've never managed to master and then we just sat and talked then watched TV for a triple episode binge of Anatomy of a Scandal which was quite interesting, or maybe we were both just zonked after a day of sitting, eating, drinking and changing trains.
Surprisingly the bed was comfortable and the room was, well, 'roomy'. The original tenants might have been short, but they certainly liked lots of space. In a 16th century house I was expecting creepy noises in the night, but either the spirits weren't interested or we were both too tired to be bothered, but we had an uninterrupted night's sleep.
PoD is a rather scruffy building that used to be part of the station at Stowmarket. It might be a bit of an eyesore now, but if you look at the brickwork you'll understand the amount of work and skill that went into the building of it.
Tomorrow we would discover the garden.