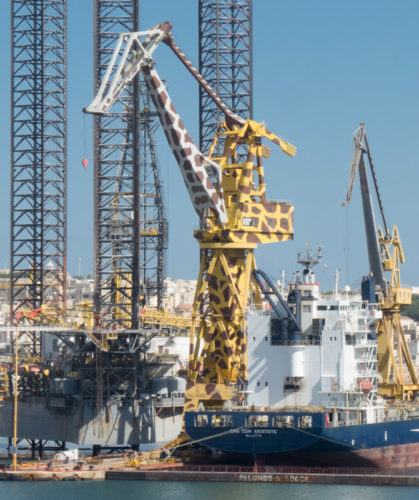 My initial thought as the alarm sounded at 3.15am. No time or desire for a shower, because it didn't really feel like we'd been asleep, despite the comfortable room and bed. Just wanted to get out and get going.
Walked across to the terminal and checked in without waiting in a queue. Then we found out why. The security was where the queues were. We were there too early because it didn't look as if they opened until 5am. Then the gates lit up and we were through. Something in or on me triggered the metal detector and I got the full body scan. I think it might have been my old amalgam fillings that the metal detector didn't like. Basically, everything went as smoothly as any airport departure can. Loads of leg room on the Jet2 plane, but oh those annoying announcements were doing my head in "Remember to Bookle Up" What on earth is a 'Bookle'?
Out of the plane, picked up the cases followed the 'Orange Bats' to the waiting coach and from there we were in the P&O machine. Possibly the most efficient embarkation system in the world.
Malta was hot. Thankfully we only had to wait about an hour for our cabin to be ready and then we could get changed into shorts and shirts and explore. The cabin was lovely. The balcony is maybe just a little tight, but it's a great viewing gallery. The first thing that caught my eye was a crane painted like a giraffe! Much of the ship was as we remembered it, but it wasn't until later that we realised some things had moved around in the recent refurbishment.
Because it was still afternoon we had plenty of time to go back ashore and get some tonic for the gin we were allowed to carry on board. We just wandered around the tourist shops and cafes by the portside.
Decided on an early(ish) dinner because at 8.30pm we had to play 'Dress the Dolly' with our lifejackets in the most excruciating safety drill. Captain Bob gave everyone a warning that they must do as he instructed or he'd want to know the reason why. What a dick. He's coming right off my Christmas Card list. Really, I know it's a serious business and is (apparently) a legal requirement, but inject a little bit of humour Bob and you might put the message across more smoothly.
Disappointed at dinner when we were shown to a table for two. One of the great things about cruising is meeting people and there was no opportunity for that tonight. Maybe it was because we were early and the ship wasn't very full yet, but I hope that's the reason.
We didn't have the usual sailaway, but maybe that's a blessing in disguise. I hate the jingoism of it. The reason was they wanted to play with two of the lifeboats, or they were painting the ship or something. I think Captain Bob was just in another of his moods.
PoD was the Giraffe Crane which stood across the port from our cabin.  Really did look like a giraffe!
Early to rise, late to bed. It's been a long day!