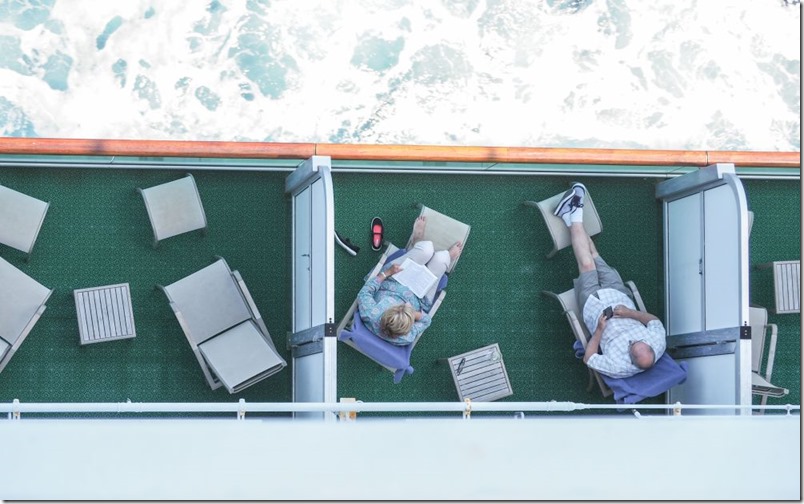 Another day at sea. This time we are sailing down the south coast of France and then Spain aiming to pass the straits of Gibraltar at around 4.30am tomorrow and no I don't intend getting up to see it happen. I'll rely on the captain and his minions to do it all by themselves and without my help. Hopefully we will arrive in Cadiz tomorrow morning. We've already been warned by the excursion staff that all the shops will be shut, so we might as well book one of their visits to Seville instead. Why? Will the shops be open there? I'm sure there will be restaurants open in Cadiz, anyway, who chose to have sea days on Saturdays and Mondays and port days on the Sundays when all the shops will be shut? P&O you are becoming a pain in the arse. We hear more and more people becoming dissatisfied with the service they are getting from this company. However, there are the fanboys who are counting up the days they're accruing from this old fashioned, out of touch company. I know I've said it before and reneged, but this time I'm sure. I won't be back.
What of the day? It dawned cloudy with the chance of the sun breaking through. By 11am that promise had been confirmed, and it was hot. I had gone to the watercolour class and managed a reasonable likeness of the sunset we were asked to paint. It turned out a bit dark and I messed up with scraping the side of the round brush across the paper, but that's just down to lack of practise. Others in the class were happy to suck up to the teacher, but of course I put my foot in it when she asked me what make of paint I favoured and I said "The cheapest". She definitely has Scamp's disease. NSOH. No Sense Of Humour. Very po faced she is.
Sunbathing on the deck then lunch in Smash & Grab and it was very tasty, but again, very little info as to what is in front of you in the buffet. "Assorted Fish" or "Assorted Meat" doesn't instil much confidence. After lunch Scamp went to her class, I went for a snooze, got lost trying to find Scamp, she then couldn't find me and finally we both met up again in the cabin. Scamp went for a quick spot of sunbathing and I went looking for the mysterious deck 19, the highest point on the ship. It was pretty breezy up there.
Tonight was a Black Tie night again so I wore my kilt. We were at a table with an ex farmer and his wife, a market gardener and his wife and a single lady. Conversation was lively with the farmer. The market gardener asked questions, but didn't listen to the answers. Perhaps we bored him. The old single lady it seemed couldn't read. I don't know if it was a sight or a mental problem, but I felt really sorry for her.
After dinner we watched the sun set and Scamp thinks she got a few photos of a pod of dolphins passing by. Drinks in Metropolis Deck 18 and then it was time for bed.
This little Windows 10 tablet/computer is great for typing up these blog notes, but I really need to find a way of disabling the touch pad. It just seems to fire the cursor anywhere it feels like and before you know it you've typed a whole line of nonsense. Nothing new for me, but unintentional drivel is different to my usual nonsense and should be avoided. The other stuff cannot be avoided!
Cadiz tomorrow. A walk around the city walls is in order. My memory of Cadiz is this graffiti on them: "My life is shit … And you?"