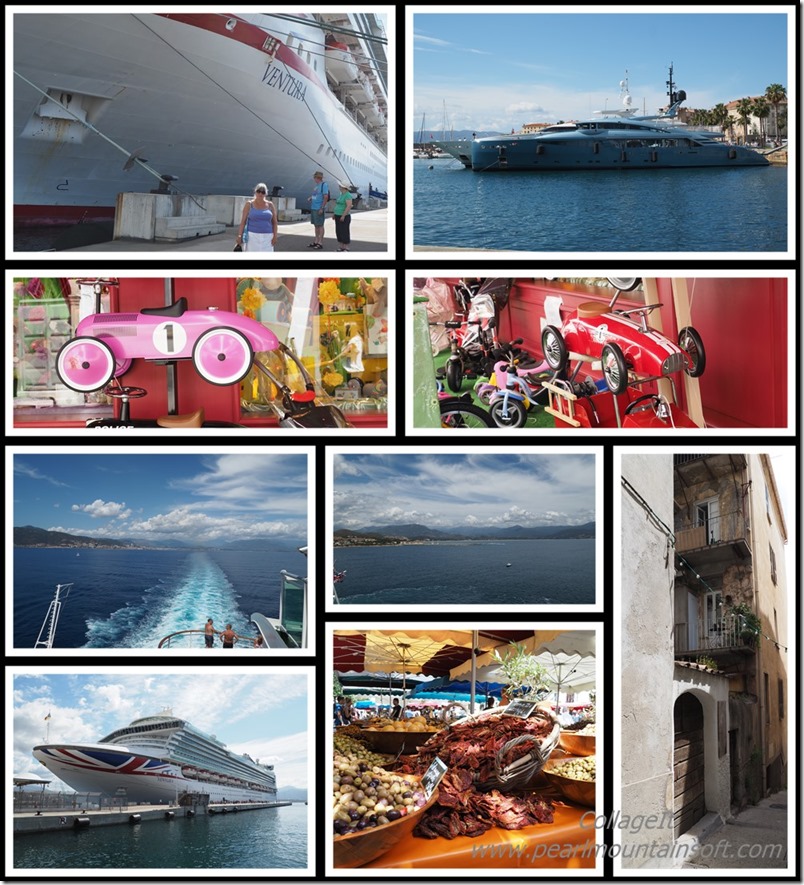 This morning we docked at sunny Ajaccio which was the birthplace of Napoleon.  You'd never tell, though.  There are bars named after him, coffee shops named after him, statues to him round every corner, there's even an ice cream shop with a picture of poor old Nap holding a cone.  As with every other port on this itinerary, we'd been here before.  It's a bit of a mixture with some old streets connected to the shore by narrow alleyways and also some modern buildings, some high rise, on the outskirts of the town, although it prefers to call itself a city.  There are also a host of fancy yachts moored at the quay.  Not the kind with sails, the ones that have price tags running seven figures.  Massive great beasts they are and so are some of the blokes guarding them.  One stuck out as different from the  rest.  It was grey/blue for a start rather than the traditional white.  Also the front of this rich boy's toy looked more like a WW1 battleship with a vertical prow and no rake.  Quite strange.
We walked into the town after breakfast, through the open air market and found that the prices of the fruit and veg were on a par with what we pay at home or slightly more expensive.  So far on this trip, the produce in the markets is a lot cheaper than our supermarket prices, but it looks like Ajaccio is moving up market (no pun intended).  We looked in vain for a little boating pond we'd found ages ago on our first visit.  We'd sat there eating tart au pommes in the sun.  It had disappeared under a new carpark.  Strangely, when they were building the carpark they unearthed the stonework of the original Roman docks.  Some of the earthwork and stonework is there to be seen now while the cooncil decide what to do with it.  I hope they don't decide to build another carpark on top of it.
I gave myself a target today.  One sketch in 15 minutes done in the open air, in public.  I actually managed to do two ink sketches one 15 minutes, one 10 minutes.  Both were of buildings.  I quite like buildings.  They don't move about and don't get stroppy when the see you watching them.  Also, they're not critical of your work and say you're giving them too big a nose.  Yes, buildings are good and safe as an art project.  Painting class on Monday has a building in it, a Tuscan farmhouse.  I've been studying them.  They have small roofs compared with UK buildings and the overhang is greater at the eaves.  Tomorrow is a sunset at sea

Not impressed or enthused by that, but I'll get a chance to use my new brushes so that should be good.
We had had a coffee on the main street earlier.  White coffee for Scamp and a tiny little strong espresso for me, but it's hot work this investigating new places, so we were on the lookout for a cafe with WiFi so I could upload the blog.  Found one and although the beer was expensive, it was much better than the beer on the ship.  While I was struggling with the WiFi connection that kept coming and going, Scamp had been eyeing up the salads that were landing on tables near us.  She eventually decided she'd have some Ajaccio lunch and opted for the mixed fish.  Since my French wasn't strong enough to make sure there was no shellfish in the mixed fish (there was no written menu), I chose the lamb which I'd seen at a nearby table.  Both meals were lovely, although my lamb was on the raw side of pink when it came.  I later blamed that on my upset stomach tonight.  Like the beer, the meal was expensive, but we both enjoyed it.
When we were finished, we just had enough time to wander over and negotiate the motorised wheelchairs, the disability scooters, the zimmer frames etc. to get back on what has now become known as The Cripple Creek Ferry (apologies to Neil Young).  These things, or to be more exact, the dim drivers of these things are a menace.  They either stop right in front of you, giving you no time to avoid them or drive right into you.  The drivers look straight ahead and remind me of the cartoon people in the Far Side cartoons, you know, the ones with no eyes.  Blank looks everywhere.  They drive the bloody things in to breakfast in the morning and get the waiters to park them because they can't do it themselves.  Then, when they've gorged themselves and complained that the tea is cold or the coffee tastes funny, they tell the waiters to turn the scooters round for them.  These idiots don't seem to know what a three point turn is.  Now, I realise that some folk need wheelchairs and I appreciate what a boon it must be to have the mobility they offer.  I also realise that one day I may need one myself, but I'm sure not every one of these people need these mobility scooters.
Tonight we sat with the bloke from Liverpool.  I thought before that he was a bit of a pain, but tonight I enjoyed his repartee, in fact everyone at the table was conversing so well that we missed the start of the show and had to wait to go to the 10.30 showing.  It was a song and dance review of hit west end shows and was great apart from The Lion King or to give it its proper name That Bloody Lion King.  As you probably realise, it's not my favourite show.  The rest of the show was excellent, just TBLK spoiled it.
Tomorrow is a sea day, so it's up early and grab a couple of sun beds, then think carefully about what the PoD is going to be.  We saw a whale tonight, so something like that would be good.