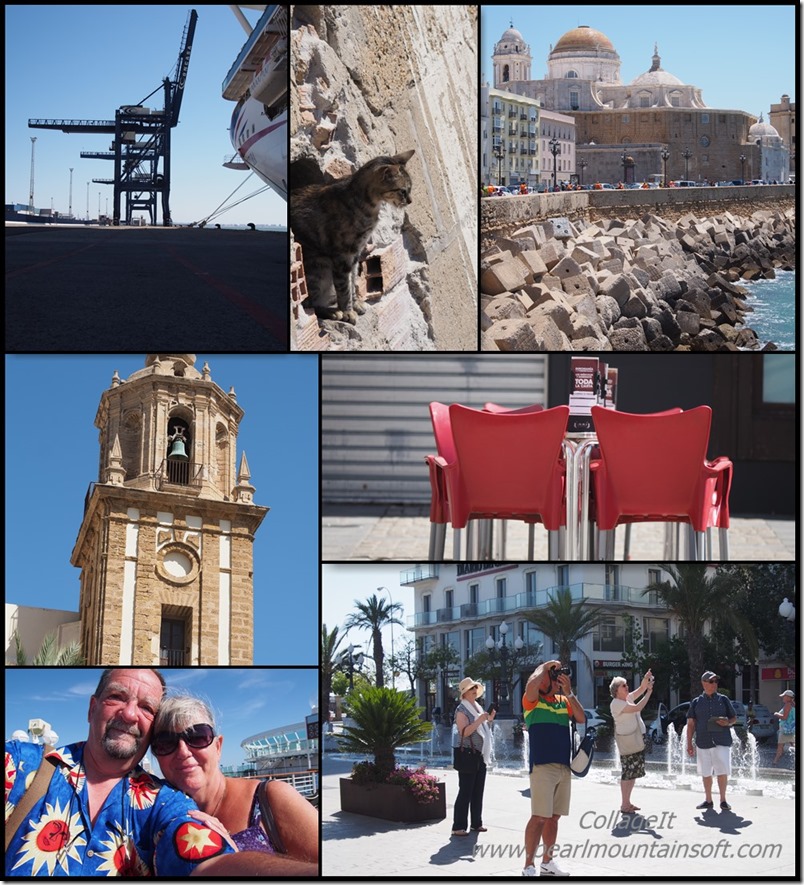 Cadiz today. The last port of call on this year's cruise. Cadiz is a favourite of ours, it's got history, lovely buildings, beaches and cats. What's not to like.
Breakfast first then watch the mad scramble to get off the ship. We had already had a warning in the Horizon newsletter that ALL the shops would be shut today, so best to book early for one of their excursions. If you've read the first paragraph, you will note that shopping is not among our highlights for Cadiz. Of course the big shops would be shut, but we knew that as long as there were punters out there with plastic and Euros in their wallets, there would be entrepreneurs ready and willing to remove some from us. So it turned out. We just did as we usually did. We walked through the parks with the fountains, the trees and the jakies. Lots of jakies. Some noisy, some snoozing. Nobody giving you any hassle. We found our way to the Cathedral Square and I sensed the chance for another 15 minute sketch. While I was drawing away, Scamp went for a look inside the cathedral. She said it was less ornate than she had expected, but interesting. My sketch was the same. Not ornate, but I enjoyed it. Sketching in ink is very unforgiving. You can't rub out, so you either have to adapt 'wrong' lines or choose to ignore them. There were a lot of 'wrong' lines.
From the Cathedral it's an easy transition to the promenade and it goes on for miles, right around Cadiz. I wanted to see the cats again. They live among the gigantic concrete cubes that make the breakwater. The cubes have holes in them to make them easier to lift, I imagine, and the cats seem to use these holes as hiding places or simply a place to cool down. They needed to find shade today, because it was very hot. 27°c was the predicted temperature today. After getting some shots of the cats we headed in search of a beer. We found a place near the castello with good views of the beach and the sea. Good cold beer, lovely! We decided that we'd walked far enough and pointed ourselves in the general direction of the Cathedral which stands on a hill, so is fairly easy to find. When we got there we found a nearby bar advertising free WiFi. Got connected and then lost the signal. Tried again and couldn't get back in. I think there were just too many folk wanting in. Anyway, it only cost us a beer and you need to properly hydrated in this heat, well, that's my excuse and I'm sticking to it.
Finally Scamp followed her nose and found us a route to the ship. We had to pass through security on the quayside and once we were through, I saw a sign advertising WiFi area. Logon was free with no password, but a long wait to be connected, but once I was in, I got the two pages of the blog uploaded, because there was no chance of free WiFi for the next two days on P&)!
When we were back on board we did some serious sunbathing which nearly turned out to be sunBURNING, but I think I remembered in time to put on the sun cream and prevent a painful peeling session. After that we got dressed for dinner and went to watch the 'sail away'. Felt quite sorry to leave Cadiz. It's still one of our favourite cities on the 'med.
Dinner tonight was weird, or rather the rest of the guests at the table were weird. One ex-pat Scot (allegedly) who had a very big 'bool in her mooth' and her husband who reminded me of the fat bloke judge from Masterchef. One older lady who used big words in exactly the right places (I wasn't having wine so she asked if I was 'abstemious'.) and a part Indian lady who was sitting next to me with her husband and she was very experienced in reading body language. Strange group who seemed to know each other, but didn't seem to particularly like or enjoy each others company. I can't put my finger on it, but I felt we were being assessed.
Entertainment tonight was Jimmy James. Old School Motown and soul singer. Absolutely brought the house down. May go and see him again.
Tomorrow is a day at sea. Eating in the posh restaurant, Epicurean!