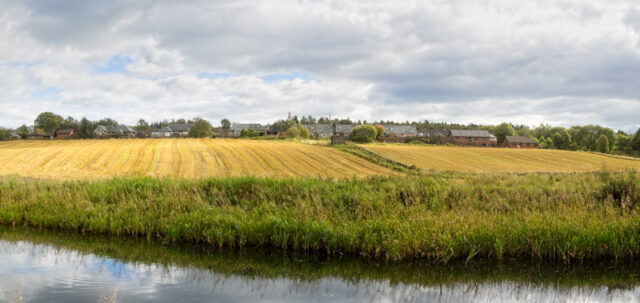 Dashcam day.
I got to use my dash cam a couple of years ago and I wouldn't be without one now. Today I went to Halfords to find out when they could fit one in Blue. Luckily, they had a space this afternoon, so confirmed the booking and drove home for a quick lunch before driving up to allow the nice man to fit a brand new dash cam for me. Yes, I could have saved a few quid by using the supplied cable and plug, but it looks untidy and a new car deserves a new neat fitting. Even more unlikely, I could have fitted it myself, but I knew that would have involved a lot of swearing and a fair bit of damage to the inside of Blue. The bloke from Halfords had made a really neat job of the fitting the last time and I trusted him to do the same again.
With him working away in the car, Scamp drove me off in her car to a nice little parking place beside the Forth & Clyde Canal where we could walk along under a fairly blue sky and some sunshine as far as the ill fated Underwood Lock House. It had originally been the lock keeper's cottage and around 2000 was converted to a pub and restaurant, but after a fire in 2013 it remains a roofless ruin. It seemed a sensible place to turn and walk back. I grabbed a set of seven shots to form into a panorama when we returned.
Collected the car and paid for the dash cam and the fitting and drove home. I couldn't see any evidence of how that man fitted the wiring, but he did just as clean a job as last time, if not better. Dash cams are a bit like insurance. It's something you have to buy these days, but you hope you'll never need them.
Dinner tonight was Veg Chilli and AGAIN I forgot to add the kidney beans. I did the same last week down at Little Musgrave, so you see JIC and Sim, it was nothing personal, it's just a mental block I have with veg chilli!
PoD was that seven frame panorama. The other thing I did today was set up Inktober 2020 on Flickr. Hope I don't have the same problems I had last year with nobody except me being able to find it on the website!
Tomorrow we may go for a walk.