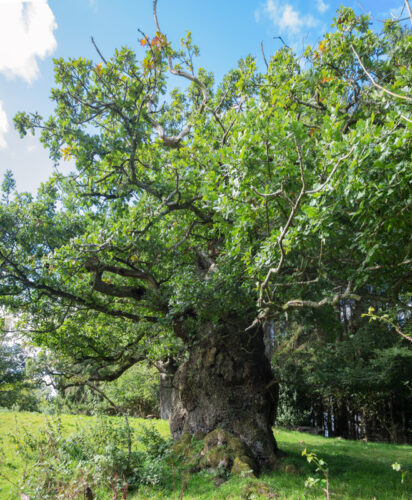 It looks like the end of September is a bit of an Indian summer. Certainly better than this year's Scottish Summer.
It was too good a day to waste, so we got ourselves kitted out with boots and wet weather gear, just in case, and drove over to Chatelherault (I managed to spell it this time without resorting to Google! Am I not clever!?). There's a fairly big carpark there and it was already full when we arrived, but I didn't want to park there anyway. The potholes are decidedly deep an I didn't want to damage Blue's delicate substructure. Instead, I chose one of the little carparks and found there were only about five cars parked there. People are so blinkered. They see the main carpark and think it must be better because it's so busy. It's not.
Boots and jackets on and with a walking pole each, we strode off towards the Cadzow Oaks. John had introduced me to them a couple of weeks ago and although the biggest one was cordoned off while they do some health checks on it and decide how best to support it, the slightly smaller ones were still magnificent enough to demand I took their photos. Because they are so large and so close to you, it's difficult to get them all in without using an ultra-wide lens and I hadn't brought one, choosing instead to travel light. Instead I took about 20 shots and knew I could produce a decent patch together later in the computer. For some reason the camera was over exposing everything and I couldn't work out why, but, again, I could deal with that later too.
We walked on past the oaks and found a path that was climbing steadily along the side of the ravine that sloped down to the Avon Water. Nobody we spoke too could definitely say where the path led and how long it would take to get back to the visitor centre if we followed it. We decided to go back the way we'd come. Rather than just returning to the centre and inevitably going home, we extended our walk to take in The Duke's Monument. I'd been there before and found it a forbidding and eerie place. Even today on a sunny afternoon it felt cold and unwelcoming. Coupled with the overexposure of the camera, the shots I took weren't what I'd intended. I sat down and puzzled it out. On the E-M1 there's a little lever, near the eyepiece that allows you to meddle with far more settings than are good for you. It was sitting in the 'Meddle' position and I'd been twiddling the wheels that should be marked 'Screw up your settings here'. It was the work of mere minutes to repair the damage, but that didn't fix the thirty odd photos I'd taken. I set myself a reminder to switch the bloody thing off when I got home, and after we walked the mile or so back to the car and after driving home, that's what I did. I took great care to turn off that switch. I think that's what I like about the E-M1. It's so easy to screw things up, but there's usually a way to put them right again if you know where to look in the massive menu.
Back home, sitting in the warm living room with the sun shining through the blinds, I had a Guinness and Scamp had a Pimms to quench our thirst after a long walk. Not as long as the walk two Saturdays ago, but with almost as many hills.
PoD was one of the Cadzow Oaks, reputed to be over 800 years old. They were growing when the Crusaders set off on the Fourth Crusade and when Genghis Khan invaded China. If they could speak, what stories they could tell.
Tomorrow we're hoping for another good sunny day. We may go for another walk.