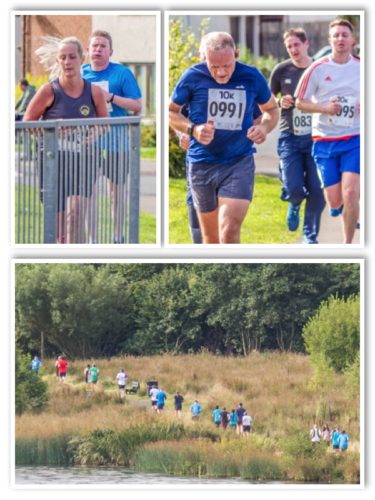 When we woke this morning, someone was shouting at us from a loud hailer from the general direction of the football stadium. It appeared that the Cumbernauld 10K had started. We really should go and watch.
We walked down through the new housing estate and found that the all the races had started. The 1K were already home, the 3K were due at any minute and the 10K were halfway round the pond. All this had happened while we were having our breakfast and reading in bed. We watched the 3K folk finishing and by the time their stragglers were coming to the stadium, the first of the 10K were in sight. We watched a few of them enter the stadium, then walked back along the road clapping to encourage the runners as we went. I find now if I stand in one place for too long, I get a back pain. Gentle moving eases it. Running 10K wouldn't help though!
We did see one accident while we were watching. One man, not a competitor took a tumble on the grass beside the footpath and fell heavily on his shoulder. He started screaming in pain and holding his shoulder. The First-Aider got him to cross his arms in front of his chest and hold opposite shoulders. Classic textbook broken collar bone injury. He was eventually carted off in a wheelchair into the VIP area. Possibly that's where he wanted to go in the first place, but a rather extreme way of getting entrance.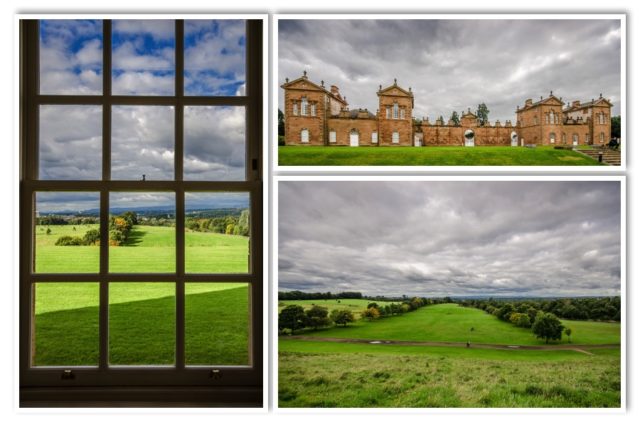 We walked back home and were just making lunch when JIC and Sim arrived back with Chris and Yvonne. After catching up with C & Y they left to go home and we booked an early dinner at Milano's, then headed off to Chatelherault near Hamilton to go for a walk through the trees. We walked over the Duke's Bridge, but when we got there and found that almost all the trees had been felled leaving the valley down to the Avon Water looking very different from the last time Scamp and I had been there. More of the Hunting Lodge was open than last time so we wandered round some of the rooms and I got some photos before we headed home.
Dinner in Milano's was good, but the pizzas were not as brilliant as they used to be. New chef, or maybe just a weekend stand in? Only time will tell. Halfway through the meal Sim discovered that their flight had been put back 2 hours! So, would we go back home or did they just want to go to the airport? They chose to go in the hope that the flight would get away quicker.
We drove home from the airport and watched an interesting and, for once, exciting F1 GP from Singapore. I won't say who won in case you haven't seen it yet.
A rather full day, but an enjoyable one.
I've been meaning to post a weekly note on my blog to try to track down the week the swallows arrive and leave. This week I saw some swallows and this is week 38.