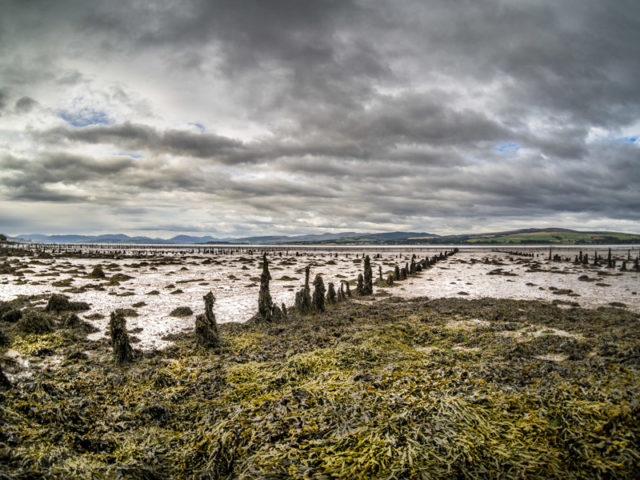 A day driving east, then west, then back east again. Don't say we don't get around.
Started out driving Sim and JIC to Chris's for them to be taken to Embra for the, as yet, undisclosed 'Birthday Surprise. We knew what it was, but were sworn to secrecy. With the rest of the day ahead of us and no particular place to go, we headed, not for the Kokomo 1, but in a generally western direction. I thought we would go to Gourock or Helensburgh to sit and watch the sea … in the rain. Yes, it was raining, just as the weather fairies had predicted.
All was going well until we reached the Royal Infirmary section of the M8, then things started to clog up. However, our many drives through this part of the motorway meant I had the answer in my head. Never get stuck in the inside lane where all the dimwits ahead of you allow poachers to cut in in front of them. Get into the middle lane and if that clogs up, move over to the outside lane. Using this technique, the Kingston Bridge was a dawdle. Drove on past the airport and out into the country. That's when traffic jam number 2 started. At first, after two police cars passed at a fair lick, we assumed it was an accident, then it became clear that only the inside lane was clogged. Managed to ease my way into the outside lane by choosing a decent space in front of a fairly new car. (Drivers of new cars will let you in. They don't want to damage their shiny new car by rear-ending a dirty old car!!) Soon it became clear that the problem wasn't an accident, well, not that we could see, but it was roadworks on the Erskine Bridge that would have taken us over to Helensburgh. So, we could confidently wipe Helensburger off today's chalkboard. On to Gourock.
There was a cruise ship docked at Port Glasgow, the Caribbean Princess. I think she was far from the Caribbean. Perhaps she had been blown off course by the recent hurricanes. We did see some bemused looking travellers seeming to come from the ship and wonder why on earth they had been given this wet and miserable place to berth. We both knew exactly how they felt after our admittedly warmer trip to Igoumenitsa or as it will always be known to me,  'The Ig Place' in Greece.
By the time we go to Gourock it was really miserable. The rain was thumping down and the Lomond hills were just smudges on the horizon. We continued to Cardwell Garden Centre near the Cloch lighthouse. It used to be a wee garden centre with a cafe. Now it's a gigantic place with a children's zoo, an indoor amusement arcade, a whole host of shops as well as a fairly extensive plants sections. It also sells coffee and scones. Decent enough coffee, but really, really excellent scones. Best I've tasted in a long time. We weren't tempted to buy any plants and just started back the way we had come.
On the way home the weather started improving with the rain finally going to annoy someone else and the sun coming out. We stopped just outside Port Glasgow because the light was getting good and I reckoned I could get some photos. I did, but they needed some work. That's the PoD above.
From there it was a straight run home in the dry. In fact it was under a clear blue sky.
Tomorrow is to be a better day. Don't know where we're going yet.
---
No Particular Place To Go – Chuck Berry. Google the lyrics. ↩