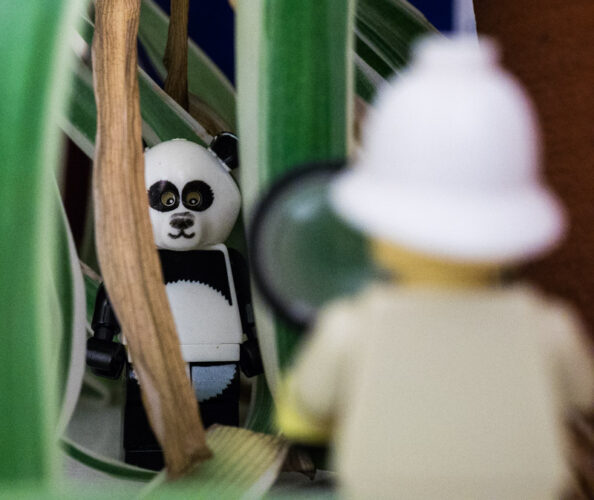 It started as a dry day, but that didn't last too long.
The rain started about 11am and never really went away all day. A cold wind was building from the east and we made the decision to stay at home today.
After lunch I made a pot of soup and against Scamp's better judgment, added a tin of mixed salad beans to it. She had wanted Canellini beans instead, but it was too late, the beans had been cast (into the soup). As it turned out, the salad beans were a bit tough, but worked out well. They provided texture and a little extra fibre.
Today's sketch request for 'Every Day in February' was Black Cat and I thought I'd found a decent photo of one on Wikipedia, but then I remembered I had a photo of the cat that lived with Hazy and Neil D, Brandy. Found the photo and decided that it would do nicely. I didn't have a PoD either, but I didn't want to do another flower photo, so instead it would have to be The Weemen. This time it was a return to the jungle with the Professor and, because the Munky is now lost, it was the turn of the Pandy to become the star. That's what the PoD is all about!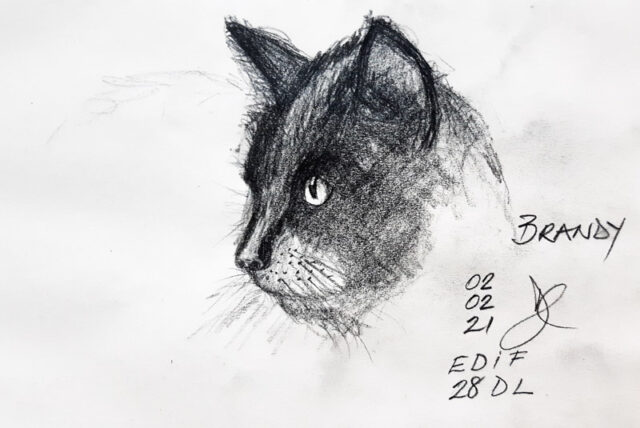 It was getting late when I started the painting of Brandy and although I got a fair likeness, I wasn't happy with it, so I started again with a pencil sketch. Halfway through it was going well, so I added some pencil shading to finish it. I was quite pleased with it and it got Scamp's approval too. More importantly it got Hazy's seal of approval.
We had a quick practise of the rumba routine and fitted it to the tune we'd been learning it from after Stewart sent us the music. I won't say we were perfect, but we were a lot better than on Sunday.
Later we reminisced over cruise photos from 2010 on the Thomson Dream. It wasn't the prettiest ship, but for the most part we had a good time on it. It's now gone to meet its maker I believe.
The wind is getting up now and it's still raining on and off. Warnings of snow tomorrow. Nic the Chick is hinting that schools may restart after the end of this month. I'm sure that will be a relief to many parents and all teachers.
I don't know what we'll wake to tomorrow, rain or snow, but we have our last weekly test booked for tomorrow afternoon, so walks, photos and sketches will have to be planned round that.