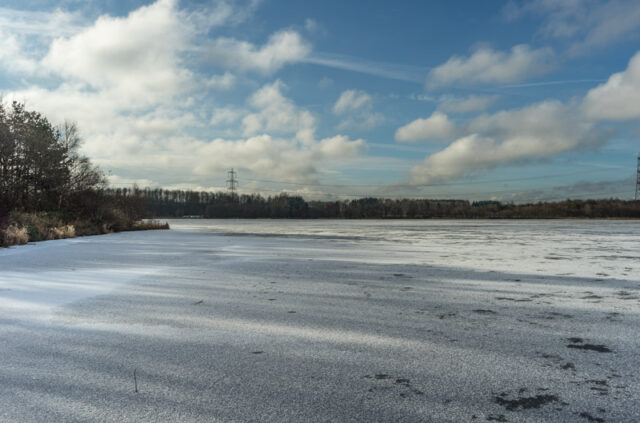 February and two sketching challenges begin today.
Another day in the frozen north. No snow, just frost on the cars. We didn't need to go out, so we stayed in until we were sure that things were warming up, then we made our move.
We were heading down and round Broadwood today. The main paths were mostly clear and thawing nicely, but in the shade of the trees round the boardwalk at Broadwood the ice was as treacherous as usual. Today's PoD was taken from there. It looks like the whole loch is just one big sheet of ice, but five minutes away, round the corner it's open water. Strange. We watched a Goosander slipping and sliding on the ice trying to grab what appeared to be a piece of lemon.  It eventually gave up and went back to fishing. Thankfully round the corner the paths were much clearer. We walked our usual route round the end of the loch and on over the dam then down near Blackwood and back up to the stadium. That took us neatly to the shops. I was the only one carrying money, so I got to go to M&S to get veg for tonight's dinner and a loaf.
Back home and after lunch I got a call from Colin to reassure me that he was keeping fine, with a bit of a chest infection, but definitely ONLY a chest infection. He'd been to see two doctors on Zoom or something like it and they had prescribed an antibiotic which he says is working. It must be cold today because he said he was going to work in his big heated greenhouse, but ended up coming back into the house for a heat. While we were talking he was watching his wife going for her second circuit with the dog "Round the Policies" as he puts it. A walk round his enormous garden. We chatted for a while about things in general and commiserated with each other for holidays lost and cancelled and agreed to keep in touch.
Ray was the only one of the Auld Guys who still hadn't replied to my email from last week, so I phoned him, or tried to. The phone rang for about seven rings then stopped and a lady's voice told me "Thank you. GOODBYE!" As abruptly as that. No chance to leave a message. Strange. I checked on the computer if I had the correct number, but it was. I thought I'd leave it for a while and phone later.
Dinner tonight was Chicken stuffed with spinach and wrapped in Parma Ham with oven roasted chips (home made). A Scamp creation which went down very nicely. Pudding was Cherry Crumble. Again, from Scamp's fair hands. Equally delicious. Then the phone rang. It was Ray. Great to hear his voice. We discussed phones, RSPB Garden Bird Watch and how boring life is now. He's a bit put out, because Nic hasn't sent him a letter with his vaccine appointment yet and I've got mine (strangely the same day as Colin's wife's – but in a different town). I suggested the lack of letter might have been down to him being English. He just harrumphed! We also agreed to keep in touch.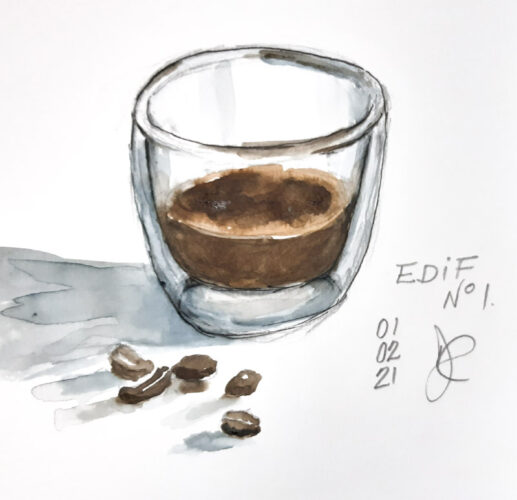 In the afternoon I put on the heater in my room and started on the first prompt for Every Day in February and 28 Drawings Later. The prompt was "Coffee". I managed that, as you can see. Not my best, but I'm a bit rusty and also I couldn't find my favourite 'Sword Brush'. I've found it now buried under a pile of papers on the dining table. I'm hoping for a better result from tomorrow's prompt.
That's about it for today. A day with a walk, two contacts made and a coffee cup painted, not to mention that chicken with parma ham.
Tomorrow we have no plans, but snow is forecast for during the night, so we will be at the mercy of the elements again.