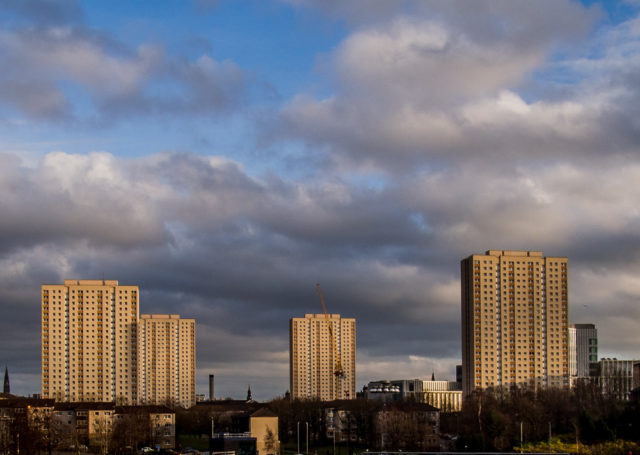 Because Christmas fell on a Sunday this year, the entire week has been one day out.  Well, that's my excuse anyway.  Today was Thursday but it felt like Friday.
Scamp was away in the morning taking her sister to a Costa for a coffee.  I got the sewing machine out and swore at it for a while then repaired the pocket of an old pair of jeans, then swore at it a bit more before patching the pockets of another two pairs of jeans.  I finished off the process by swearing at it a bit more.  It doesn't really owe us anything as it was bought over 40 years ago.  It cost about £25 in those pre-millennium times.
In the afternoon we drove in to Glasgow.  For a change we thought we'd park in the Concert Hall carpark.  We always get parked there in the basement.  Not today.  Basement was full and we had to go all the way to the roof to get a space.  It's ages since we had to go all the way up there.  Brilliant view.  That's where today's PoD came from.
I was in Glasgow to get my hair cut and Scamp was going shopping.  However, it was standing room only in the barbers, so I decided to wait until next year to get my hair cut.  We wandered round John Lewis looking for bargains – there were none.  Then through Buchanan Galleries but there were no bargains there either, or if there were, they were well hidden, so we went for lunch in JL.  Had another look at new sewing machines, but they didn't have the one I wanted – out of stock, but in stock in Embra.  Apparently this one just works, you don't have to swear at it.  I wasn't sure I'd like that.  It's the swearing that makes it interesting you see.
Back home I made the decision and bought the machine from the Embra store.  It will come in five working days, but with New Year a few days away, there's no telling how far that 'five working days' will extend to.  Now I'm beginning to wonder if I've made the right decision.  Will I like a sewing machine that you don't have to swear at?  I'll find out in 'five working days', and I'll let you know.  Effin' sewing machines!
Scamp was out again tonight to a 'Gems' meeting (For 'meeting' read 'drinking session') and she had not actually been to the house before, which made it interesting for me as I was doing the driving.  We got to the street and then she admitted that she wasn't absolutely sure of the house number either.  Honestly, you couldn't write this stuff, although, I suppose you could.  Well, I could because I'm writing it now, but you know what I mean.  Eventually after a couple of dead ends, we found the house and the car was decanted.
Not sure what we're doing tomorrow.