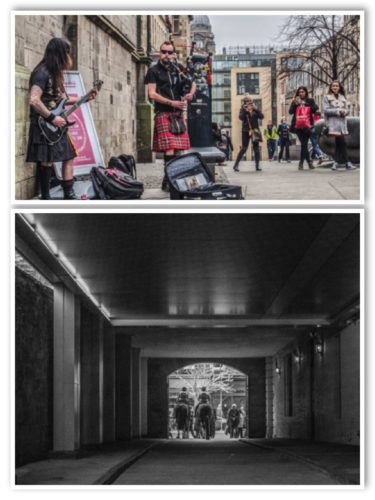 Today, in total secrecy we slipped out of the house just before 10am and drove under leaden skies to Croy station.  There we boarded a train headed for … Embra.  The trick is to not let on.  That way you actually get to Scotland's second city without any interference.
We had coffee in our usual Cafe Nero in Lothian Road and gazed out on light clouds with bits of blue sky.  Scamp took pity on a Big Issue seller and bought her a coffee.  A random act of kindness.  We should all do that more often.
We had intended walking through Princes Street Gardens, but they were locked and guarded by security staff.  I suppose that's to be expected with the amount of work having to be done for the Hogmanay celebrations tomorrow.  That said, we went back the way we'd come and walked up the Grassmarket and from there on to Princes Street.  We had thought about going to JL, but it's too depressing going into a shop in a building that's being demolished.  A story of the irresistible force and the (literally) immovable object.  This is what happens when people don't speak to one another.
Edinburgh was jumping!  It was almost as busy as when the Festival is in full swing.  I'd hate to think what it would be like tomorrow.  There were so many barricades around Princes Street, I said to Scamp it looked like a war zone.  Probably that's what it will be just before The Bells tomorrow night.
We walked along Rose Street and on to Whighams for lunch.  Breaded Haddock, chips and peas for Scamp and Pheasant, Bacon and Leek Pie with roast potatoes and roast vegetables for me.  I even risked a half pint of Deuchars.  Another very decent lunch.
This being a weekday, we had to travel off-peak, so had to get the train home by 4pm or it would turn into a pumpkin or something.  That meant we had to forego a shot on the big wheel or vertical chair-o-planes and head for the train home.  Such a pity 😉  When we got back to Croy the grey clouds were still there, maybe a bit lighter grey, but that was probably because they'd dumped some of their rain on Cumbersheugh.
Wind is getting up again tonight and it looks like rain for tomorrow.  Don't have anything planned.