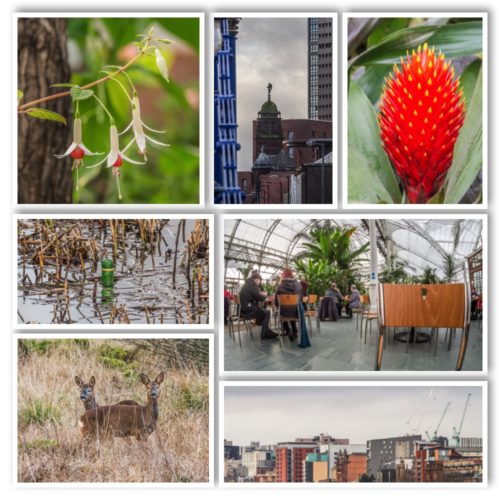 Today we drove in to Glasgow, but not for shopping.  We went down Glasgow Green for a walk.  A walk down The Green is usually a Sunday pursuit, but today was dry and open, so we chose to do our Sunday walk on a Wednesday – just for a change.
There were a few folk out walking off the Xmas excesses.  Some folk had even taken to the water to do some serious rowing.  There were even some like me who were out taking photos.  It was a fine day for it with low sun and some clouds to make the sky that bit more interesting.  A most enjoyable walk, but the best was yet to come.
We always use to complete our walk with a coffee and a roll 'n' sausage (for me) and a peppermint tea and toast (Scamp) in the Wintergarden of the People's Palace.  Until, that is, the day when a glass panel fell from the roof of the Wintergarden some time in July.  Since then the Wintergarden has been closed.  Today it was open again and it was quite full of families too.  Even better, they had fresh rolls, fresh bread and fresh sausages.  The coffee was real.  Not like yesterday's brown water, this was coffee.  Brilliant!
After my Sunday lunch I usually go for a walk round the plants because these are plants you only get to see in a large, enormous glasshouse like this.  Today was no exception.  It looks like the gardens section of Glasgow Council has taken the opportunity to remodel the gardens while it was closed and the difference is quite dramatic.  It take it all back Glasgow Council.  You've done a great job here.
We needed some milk when we got back, so rather than drive to Tesco, Scamp decided to walk to the local M&S to get some and I came along for the walk.  On the way back, I carried on with my walk round St Mo's while Scamp went home.  I managed to get my first decent shots of a couple of deer in a long while.  I could see the animals grazing quite contentedly upwind from me through the cover of some pine trees and I was able to get the camera set, focused and ready before I quietly broke cover and got the first few shots.  Then they sensed something and their heads came up.  I stayed stock still for a few minutes still taking a few more shots before they went back to grazing.  My next step broke a twig and that was all the warning they needed.  They were off, running and jumping.  I hammered off about 10 shots in motor-wind mode before they were lost in the bushes.  That was it for photography today.  Happy, I went home.
Tomorrow is booked solid for Scamp, so I'm free to do as I please.  I may get my hair cut, 'cos it's a 'Pure Afro' as we say in this house!