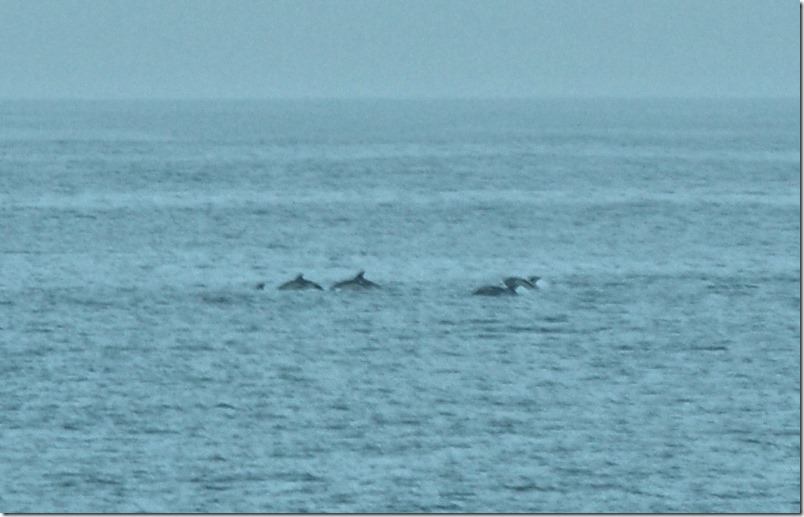 Today was the first sea day.  Usually a boring day with little going on aboard ship apart from trying to get a decent place for a sunbed away from the wind.  Today wasn't like that.  Firstly, for a change, there were quite a lot of interesting things on the day sheet.  Secondly, the wind was from the south at 20mph and we were heading south, almost straight into the wind at 20knots which gave an effective wind on deck of around 38mph or gale force to make it simpler to understand.  I saw a few sad looking folk near one of the swimming pools huddled under towels trying to look as if they were sunbathing.  They weren't fooling anyone.  As we were crossing Bay of Biscay, the sea was in a bad mood with the ship doing 'rockyboats' all day.  This caused tidal waves in the pool which made the poor windbathers even more uncomfortable.
The pitching and rolling of the ship also made the painting class I went to a bit more interesting than it should have been.  The tutor, Julie King was teaching washes in watercolour and although most of it was well known to me, I did pick up a few tips that I'll make use of.  She seemed a bit snooty as did some of the participants.  Most of whom claimed that they had 'done a little' then unrolled their brush rolls with 27 odd brushes in every shape and form known to mankind.  Strangely though, they were all painting with Cotman paints which are deemed to be student quality.  I've used a wee white Cotman box for years, but prefer the fuller colour of the artists quality paints now.  Only two of us were using artists quality paints and we were rather ignored my Ms King.  I've read one of her books before on painting flowers, in fact I've got one at home.  Like most of these people, meeting her in the flesh was a bit disappointing.  I got the distinct impression she was teaching this course as a kindness to those less able than herself.  Maybe she sees it as a charitable action.  She probably doesn't even know she's a dobber!
Lunch in the 'cooncil' restaurant and it was really good.  Too much again.  I must watch my intake.  I don't want to be rolled down the gangway at Southampton!  After lunch, during which I'd been joking about how to cause a riot on a ship was to shout "DOLPHINS!" or even better "IS THAT A DOLPHIN OR A WHALE??!!", we went for a walk round the 'blunt end' (Technical Term), I suddenly spotted a dolphin jumping clean out or the water.  I shouted "DOLPHINS" and Scamp said "Aye right", that famous Scottish Boolean double negative that is a positive.  (Two wrongs never make a right unless you're NANDing in Boolean).  Anyway, I was right.  We were just passing a school of dolphins, and not just one, there were two or three.  Must have been a school outing!
Maybe as karma for those bitchy thoughts about Ms King, but after lunch I got struck down with a 'dose of the runs'.  Nothing serious, and it might have been from breakfast.  It also might have been what the Captain said in one of his talks yesterday.  "If you've touched something that other people may have touched, wash your hands before they go anywhere near your mouth."  Sound advice.  I took it to heart this afternoon once the 'Di Horrea Hi Hay' as Billy Connolly called it had been washed out of my system by copious amounts of water.  I know this probably falls into the too much information category, but just remember: "Let he/she who is without sin cast the first stone".  Karma will always get you in the end.  Mixing my religions there a bit.  Sorry Neil D'.
Went to a Cha-Cha dancing lesson later and enjoyed it.  Scamp had already been to a ballet class.  Opera singer yesterday, ballet today.  We're quite the culture vultures.
Tonight was a formal night, so it was highland dress for me and gold and black cocktail dress for Scamp.  Enjoyed dinner.  Even sampled Scamp's lobster and haven't felt any side effects, so it will probably be ok to order it for myself next time.  The show tonight was a dance spectacular and spectacular is what it was.  Sea is a bit rough tonight, so is the price for WiFi on board.  Two hours would cost the unwary £35!!  I will try to find myself a cafe advertising free WiFi tomorrow and for the price of a cup of coffee and a pastry will post this.  If you're reading this, then I probably have been successful.
Update:
Posted on 10th June from Cosmos café in Vigo.  Sitting here with a beer or cerveza I should say.  Scamp, of course has a red wine.  Sunny and warm after a rather rough crossing of the Bay of Biscay.