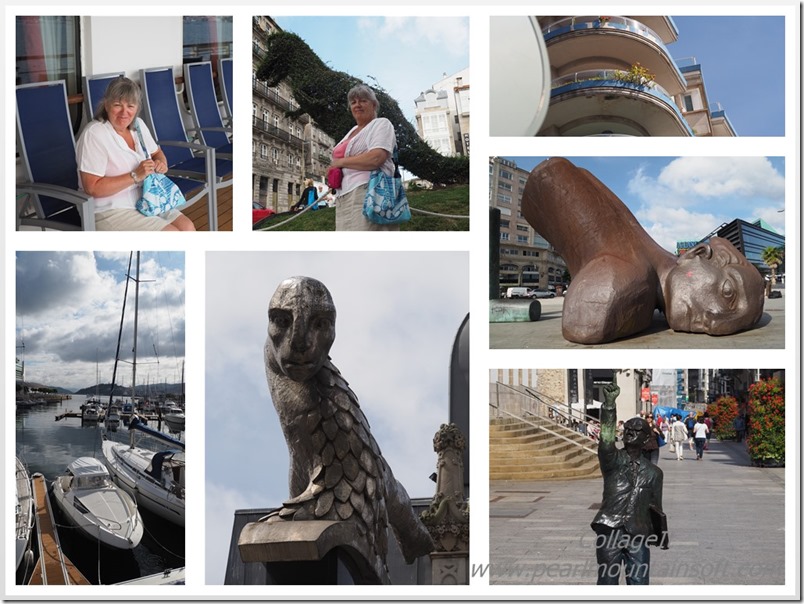 Today was the first port of call on this year's cruise, Vigo.  We'd been there before, we've been to all the ports on this cruise before, some more than once.  We had breakfast in the sit down restaurant as opposed to the buffet (where you also sit down to eat, but one of the ladies at our table this morning called it the 'smash & grab' restaurant, I understand that).  After that, we made our way off the ship on to dry land.  I remembered most of the layout of the town.  It's a straggly layout, spread over the side of a hill which rises up to a citadel at the top.  We weren't going there.  We weren't going to the park we visited last time either.  It was a bit overgrown and untidy looking.  Scamp grumped most of the way there, but agreed there was a great view from the top.  I liked it.  I like Vigo too.  It reminds me more of an Italian town than a Spanish one.  It's very laid back, taking things easy, the Italian way.  Anyway, we walked up the hill a bit, but avoided the park.  I was looking for a cafe with free WiFi to send my previous two blogs.  We had passed a couple of them on the way up.  On the way down again, we took a few turnings to bring us down near the harbour.  Finally we found a cafe with the free WiFi sign and got two coffees and the password.  It didn't work.  No combination of the numbers, space or dashes made the slightest difference.  It wasn't a big deal.  I was happy to pay for the coffee and continue our walk, but Scamp was determined to find a place for me to upload the blog.  Finally we got back to where we had started our circumnavigation of the centre of the town, and she was off.  She knew where there was a free WiFi cafe.  It turned out to be a lovely cafe called Cosmos Cafe.  I had a beer, Scamp had a red wine.  I got the password and it worked.  I uploaded the blog, then we decided to have tapas for lunch (Cooked ham with paprika and sea salt, Chicken Fajita and Tortilla [tortilla was also the password for the WiFi!]).  Scamp had another red wine and I had one too.  Sitting in the sun eating tapas and drinking wine under a blue sky in Spanish Spain.  That's the life.
We walked back to the ship and found some more streets we'd passed down in our previous visit a few years ago.  When we got back, we went to the Smash & Grab (that name is catching) for a coffee, then went looking for a couple of sunbeds from which to watch the sailaway party.  We weren't long sitting when this fat, overexcited camp 'entertainer' got up on stage and started shouting and screaming his excitement into the mike.  Obviously nobody had told him that with a mike, you didn't need to shout, that's what the mike is for, duh!  From then it was mayhem.  One side of the ship versus the other to see who could do the best Macarena and who could shout the loudest.  Oh, spare me!  We left. I had forgotten to pack my earplugs.
Dinner in the sit down dining room.  I found myself next to a woman who had been in the art class and we spent most of the time discussing what paints we used and what we painted.  A woman across from us with a wig made from steel wool, well, that's what it looked like to us and her granddaughter(?) were from Ayr and they had flown down from Prestwick.  As Dylan said "A question in my nerves was lit …".  Were these two the couple who held us up in Glasgow on Wednesday morning?  The two who had decided to fly down and not tell the bus company?  I hope not, because contrary to what you'd think, steel wool is very flammable!!
After dinner we went to see the Piano Brothers.  Not the comedy act I'd expected, but a pair of very talented pianists.  Scamp was entranced.
We decided to go see if we could get some salsa played to dance to in the Atrium.  Yes, the lady said, they could organise some SOLSA.  I didn't want to correct her, and we did dance, very badly.  Scamp's heart, for some reason, was not in it.  I was too cautious of causing more damage to her weakened right shoulder and basically we were crap.  After that, the night was a dead loss.
While we were finishing off our tapas in the afternoon, I noticed a bloke with a paper carrier bag.  This was on the side of it:
"Life always offers you a second chance.  It's called Tomorrow."
I hope that's true.
Lisbon tomorrow.  Portuguese Custard Tarts here we come!