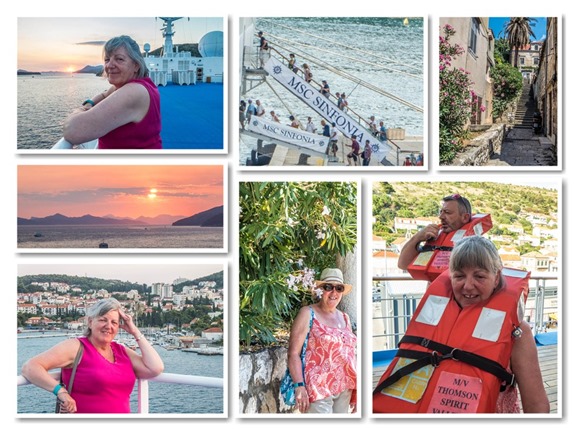 It was 2.30am when the alarm sounded and the day had begun. Up and out with nothing but half a cup of tea in me. Drove to the airport along an almost deserted motorway. Bus from the long stay to the airport proper. Booked in security checked and sitting at breakfast in Frankie & Benny's just before 5am. Only one small problem at security when they wanted to inspect my black box of wires, connectors and assorted cables. However the poor girl got a shock when she opened the bag and smelled my almost freshly ground coffee which was leaking from the lock 'n' lock tub. That put a smile on her face. It always does. Flight was inconsequential but apparently the landing was a bit bumpy. I didn't think it was anything out of the ordinary. Besides, we had been warned that it might be an uncomfortable approach because of gusty winds.
Transfer to the ship from the airport was organized and quick with a half hour drive along the coast to Dubrovnik. The ship is quite small, compared with others we've been on, but it has all we'll need. I was disappointed with the cabin, but in a way, it was what I expected from the deck plan. Ramsay (bastard) Travel assured us it was an unrestricted view. Unrestricted if you can ignore the chest high metal barrier three metres in front of the window and the door that cuts off our view forward. I grumped about it all afternoon yesterday and I apologise for that now, Scamp.
After the grumping session, we went for a quick lunch in the Thomson version of 'Smash 'n' Grab', we went for a short walk into town. We decided that we didn't have time to go as far as the Old Town today and that when we return in a week's time we'll be sensible and get a taxi DV. Walked for about an hour and then dropped into a bar for a beer. Scamp must have been thirsty because she polished off a full pint of lager. Cost us 50 Kuna which is about £6.50 so not bad at all. I think we both needed a drink because the sun was shining from a clear blue sky and the temperature was 30 degrees Walked back to the ship and found the wee market on the quayside where Scamp got a dress two years ago.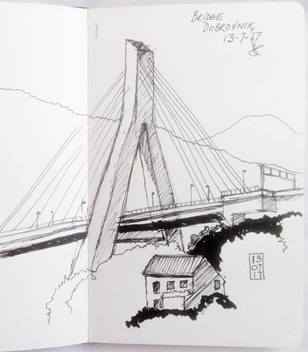 When we got back I began today's SoD which is of an impressive road bridge across a wide estuary just outside the port. It was a second attempt, but it turned out looking like the bridge. I was satisfied. More strange looks for a bit of Urban Sketching!
After the sketch was completed, it was time for the lifeboat drill. It was the usual pantomime, but the most realistic we've been to with names and room numbers being checked off. Our staff member was quite strict and officious pushing and prodding us until we were all in exactly the proscribed positions.
The drill passed and everyone walking around like Lego Men, it was time to put the lifejackets away and get ready for dinner. Dinner was not as good as some we've had, and for the first time on a cruise we had to pay for a steak. I didn't. Company at the table was ok, but one woman was amazed that I didn't like Elvis!
Went to the show which was 'Motown'. It was ok, but a bit too long. Then it was a walk along the deck to see the sail away. Strange having a sail away in the dark. Went to watch the 'Sailaway Party' which seemed to be a lot of embarrassing 'dad dancing' before we went to bed.
Day at sea tomorrow. Time to relax.