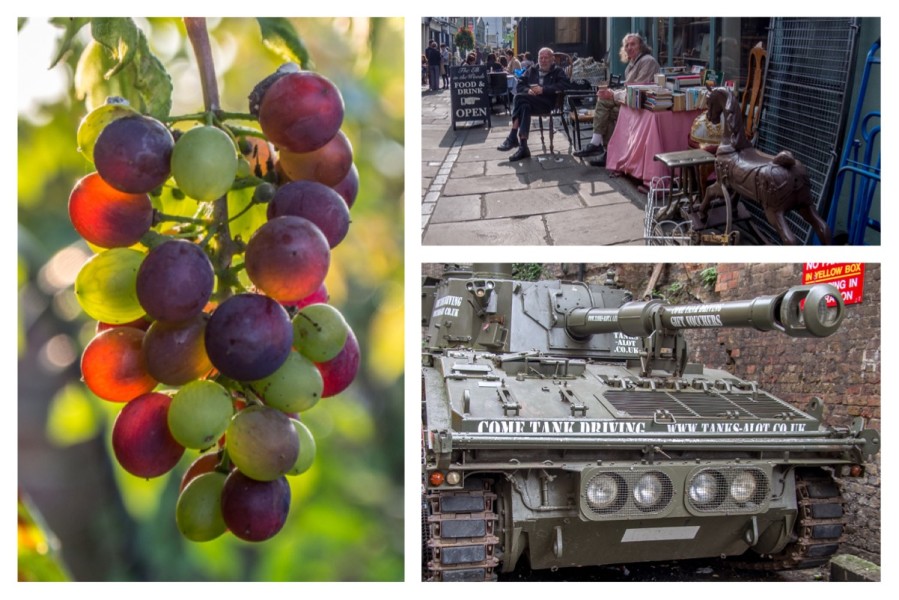 We went to Angel to meet JIC and Sim. All organised and planned by Hazy and ND'A (thanks again folks). After a bum steer with a dodgy looking Indian/Mexican dive and finding a tank in the process(!), finally settled on Jamie's Italian restaurant and had an enjoyable lunch (Italian sausage and pappardelle for me). Then went for a walk around a small market we'd visited before with Hazy. Some strange things for sale there. Numerous stalls selling spoons and fish-knives('?' again) and other things that will not be mentioned for fear of nightmares – just don't ask! Some beautiful opportunities for photos in the low afternoon light, especially with the 9mm and 20mm lenses. After that JIC and Sim went for their train and we did the same. Scamp was in a bit of a rush to get back to Hazy's, to make sure we'd be ready for the party. I'd rather have had a wander around Kings Cross, or even better Vauxhall. I really want to have a go at photographing those riverside buildings. They are quite a favourite of mine, but obviously not as good as the one on Ingram Street in Glasgow. We agreed to disagree on timings and I left Vauxhall for another day. I need more practise anyway, to do them justice. Got some more photos of grapes in Hazy and ND'A's garden. Then it was time for the party.
In the usual D'A style, this was a party not to be missed. Food, drink, dancing, speeches, laughs. These people really know how to enjoy themselves. It took my breath away the first time I met them and seemed too good to be true. It's not. It's just the way they are, and they are an object lesson for the rest of us. I admire them in so many ways. Anyway, we all had a great time and although Hazy didn't stay long, I'm sure she too had a good time. When it was time for the last dance I was so disappointed, I hadn't noticed the time passing. After we helped clearing up the hall, ND'A drove us home and we had to get ourselves organised for the journey back up the road.
A short trip, but a lot crammed in.
As I said, "… I need more practise anyway, to do them justice."