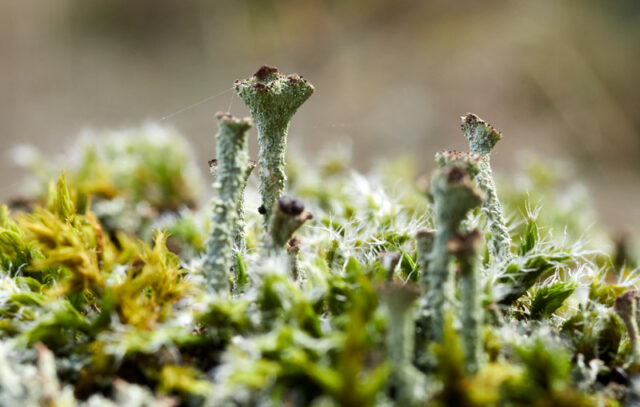 Blue sky and sunshine at 8am. Looks like it's going to be warm again.
It was warm. We drove down to have a wee natter with Isobel in the Village. Scamp had promised her an Astilbe plant. The plant simply wants to take over the entire garden, so it had to be cut back every few years. Strangely, Isobel didn't have a piece of it in her garden, so good luck to her keeping it in its place. However, if anyone can do it Isobel can. We sat in her little sun trap at the side of her house and chatted away. Before we'd noticed, an hour had passed and it was time for us to go.
Back home, and after lunch, I made a pizza dough and left it to rise while we went for a walk in St Mo's. One circuit of the pond was enough for Scamp today. She headed off to the shops after that and I went for another circuit. There wasn't much to see today, but the hawthorn bushes were pushing out their flower buds, not opened yet, but it won't be long. PoD went to some Cladonia. Sprouting up like upturned trumpets. There are alien landscapes all around us if we take the time to look and to wonder.
Walked down to meet Scamp and walked back up the road with her. Sat in the garden for a while and finished off my first book from Audible (What Abigail Did That Summer). It's supposed to be a young adult book, but this old adult enjoyed it tremendously. It's encouraged me to try another one. I think I've bought two, years ago, and never started them. I also have another one that was awful and it was probably that experience that put me off audiobooks.
The pizzas I made from the dough were among the best I've ever made. Light and fluffy base but not heavy in the middle. I don't know how I did it, but the remains of the dough are in the fridge, so I just might make a pizza to share tomorrow. As well as finishing off the book in the garden, I also finished off two wee cans of beer (to keep Scamp company with her Pimms!) and then a glass of wine with my pizza. Later in the evening we both had a G 'n' T. I'm beginning to feel the effects now and maybe it's time to get to bed before my eyes close.
Hoping for another warm day tomorrow before the weather breaks and the rain comes on Sunday.