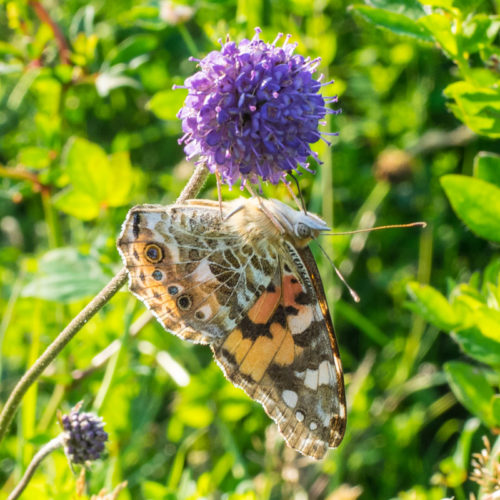 It was a beautiful morning. Today was set to be another hot one.
Scamp wanted to go looking for plants today to bring some new colour to the garden. We headed off to Torwood to see what they could offer. As there was a 20% reduction on all plants, we expected there to be a big queue, but surprisingly the carpark was only half full. Grabbed a bundle of flowering plants and also some curly kale plus some leeks. Just something to fill up the raised bed.
Back home and after the usual Sunday fried lunch I had a bit of a longer snooze than I'd anticipated while Scamp planted out her flowers, then sat and read in the garden. I don't know how she can do it with the noisy neighbours, their adult kids, plus the grand weans shouting at each other. I think some of them must be deaf. That's why they keep shouting instead of conducting a normal conversation.
When I woke I realised I still hadn't a firm favourite for PoD, so I put a pair of shorts on and went over to St Mo's to see what was what. Spotted a Painted Lady right away, feeding on a scabious flower. Banged a few shots of that into the E-M1. Got a few shots of a dragonfly too, but it was really far away across the bog and I wasn't going wading in St Mo's bog. You never know what's under your feet there. Well, you do know, and that's worse than not knowing.
That sort of summed up Sunday. Just another hot day, but finally I have a picture of a Painted Lady to present to the waiting public.
Tomorrow Scamp's off with the Witches to Glasgow and I'm off the leash for a few hours.