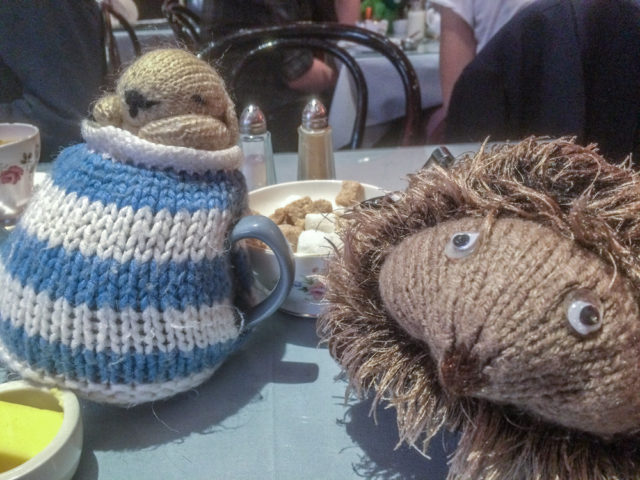 This is the meteorological first day of autumn, so the weather fairies say.  Just thought you deserved that information.  It was a bit cooler today, but not inordinately so.
On Saturday we had intended going to Tea Jenny's for lunch, but for a variety of reasons, we didn't manage it.  Today, I suggested we remedy that and off we went to play the 500metre traffic light game and have our lunch in TJ's.  Luckily the traffic was a lot better today and we managed to pass the traffic light test quite quickly.  Tea Jenny's is simply a tea room in Falkirk, an old fashioned tea room with odd (as in random) china cups and teapots with hand knitted tea cosies.  Although you can get a full lunch there, the main attractions are the soups and sandwiches, oh yes, and the gigantic meringues.  None of these really hit it off for me.  For me it has to be Stovies.  If you don't know what stovies are, then you almost certainly aren't Scottish and will need to Google the word, because I'm not going to describe stovies.  Everyone has their own version.  Today's stovies had potatoes, onion and sausage in it.  It's not as good as my mum made, nothing would be, but it 'filled a wee space' today.  One of the attractions for us is the variety of tea cosies.  Today's candidates are shown above.  The photo was taken by the best camera in the world, the one you have with you.  In this case, my iPhone.
With my fingers firmly crossed, I'm going to say that I think I've solved the gallery problem.  It looks like the problem was caused by a rogue plugin messing things up.  The plugin has now been severely spoken to and has been banished to the 'Deactivated' box.  It has also been grounded for the rest of the week.