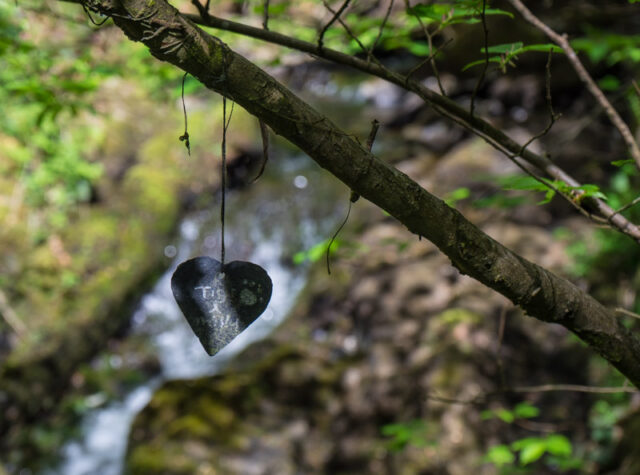 It was another beautiful morning. Too good to stay in bed and even too good for a morning coffee. That kind of good!
Scamp had booked a table for her and Margie for early afternoon, so a walk, not local, but not too far was the request. I thought maybe the walk along the canal to Twechar would probably be too long for today and the short version with the shortcut across the plantation would be too short. Maybe Colzium. It's a week or so since we'd been there and there were a couple of little waterfalls I wanted to investigate in the park, so there was another bonus. So it was that we drove out through Kilsyth to the once private estate that is now open to the public.
We have worked out a decent route around the park with some short hill climbs and interesting scenery past rushy streams and walks through the woods. Just to make it a bit different I chose a path we hadn't walked before, not knowing it had a long climb in it. It took us to a bridge over the Colzium Burn. I thought we'd crossed this particular bridge before, but Scamp disagreed and she was right. When we walked down the other side of the burn we came to the bridge I was thinking about. That's where I got today's PoD. Again it was Scamp's observation that brought the heart shape hanging from the tree branch to my attention. I was quite pleased with the composition, positioning the heart against the white of the falls. We walked on down.
We walked down the wide avenue from the 'Big House' to the old curling pond. Some of the rhododendrons were in full flower, but most were like our own and just coming into flower. The trees, though, were glowing with colour. Strangely it was autumn colour, but it seemed to work with the green around it. We drove home.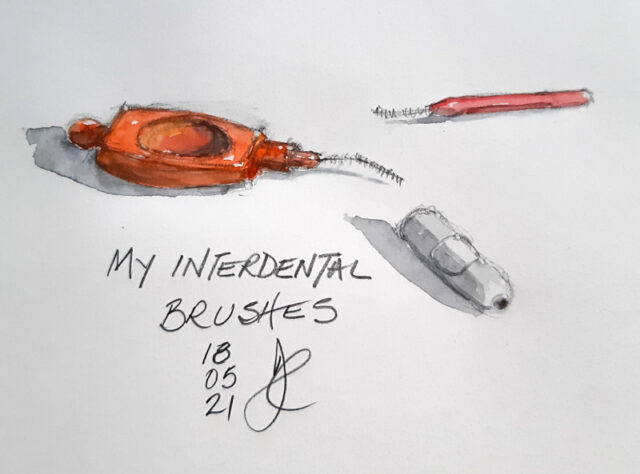 While Scamp went off for lunch with Margie, I started today's sketch. As usual, some of the prompts are slightly random. Today's was An Interdental Brush. I decided to be generous and sketched both of mine, one with its holder. It's amazing how useful these little wire brushes are. My friend, Fred, describes them as miniature toilet brushes. I'll leave that thought with you!
Next task was a bit of technology (That's your five minute warning JIC). Lightroom is having problems with the new Mojave OS and it simply won't run on the new laptop. With that in mind I'm thinking about moving to the new Lightroom/Photoshop package from Adobe that is a subscription system. To do that I need to create a new Adobe account. Now many years ago Adobe was hacked and my email address was one of the ones that was sold off by the hackers. Despite changing my password as soon as I knew, I eventually had to shut down that address. Just in case the same thing happens again, I created a new email address for the new account. For some reason it was simplicity itself to set up on both machines. Maybe Apple are making improvements with these new operating systems. Now that the email works and has been checked, tomorrow I'm ready to sell my soul to Adobe for a Lightroom for the 21st century. (OK, JIC it's safe to come back.)
When Scamp returned I was putting the finishing touches to the Interdental Brush still life and she pronounced it good enough to post.
Spoke to Fred tonight and we discussed politics, Rangers supporters and how boring life is these days. Then the conversation turned to cars before touching down for a while on painting.
That was about it for today. Tomorrow we're hoping to get out for another walk, because it may be the last dry day for a while.