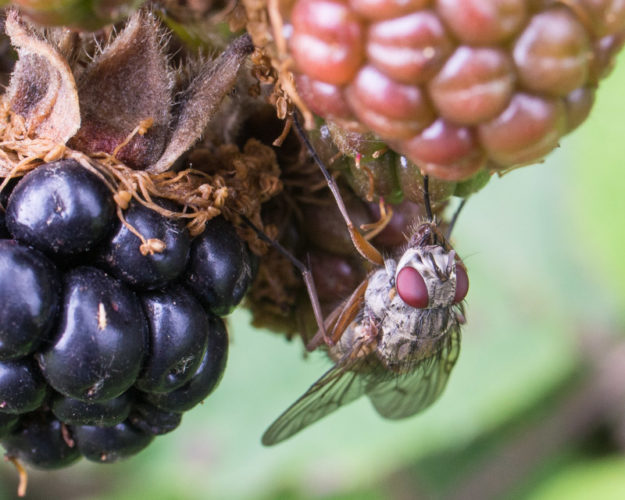 Fighting through the latter to get to the former.
After another lazy start to the day that had seen some torrential rain during the night, predicted by JIC last night, I eventually broke surface just before lunchtime. After some scrambled eggs with smoked salmon, we drove down the Mollins Road and parked on a wee side road into some factories. We walked across Mollins Road and then split up, Scamp going right and me going left. Between us we fought through the thorny bramble bushes and the flying insects to get just over 1kg of the lovely black fruit. Most will be put straight into the freezer to be made into Bramble Jam at some later date. It took us just about an hour to harvest the fruit. An hour well spent.
Later in the afternoon we drove to Robroyston to have a coffee. While we were there we counted the number of outlets in the retail park that were either closed or in danger of closing. Out of the six units, two are already closed and one is marked for closure. Of the three surviving units, one is a gym and the other two are bargain basement shops. Not a good sign is it?
Back home it was Sea Bass with New Potatoes from the garden and Courgette Spaghetti from one of JIC's courgettes, Scamp being today's chef.
Today's PoD is a devilish looking red eyed fly on a bunch of brambles. I didn't pick that bramble, I left it for the fly!
Tomorrow I'm up early to take Shona to the hospital in Glasgow. Fighting my way through the going-to-work traffic. Oh what fun.