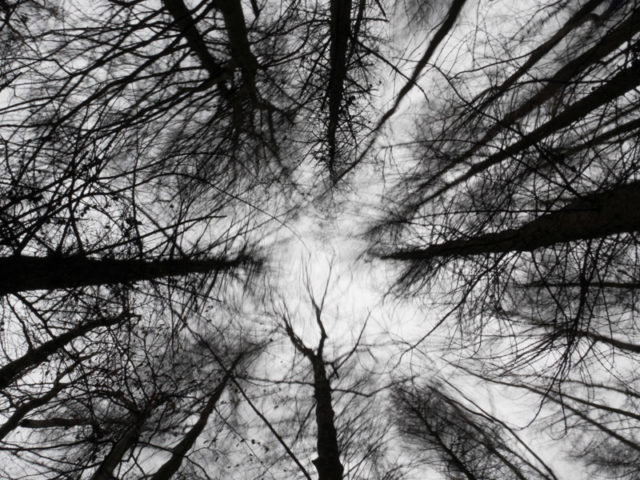 Do these weather chappies think if you give a storm a 'human' name, it makes it less scary? Somebody should tell them it's not working.
Today's storm was named Brendan and it was a stoater. It blundered around, knocking down bins and firing the rain in your face when you weren't expecting it. It was just an awful day. I don't like the high winds. I don't like thunder either. Maybe it's the noise, I've never thought about it really, but I never did like high wind or thunder. I don't mind rain or sleet or snow. They're really just different varieties of the water that falls on you after all. Despite all that I took myself out in the wind and rain that was Brendan to get a photo or two and a writing pad. As it turned out I got four photos, all of trees blowing in the wind. All pointing straight up. All with a really slow shutter speed. None with the camera resting on the Beadbag™ which was designed for such a situation! Needless to say one of those shots became PoD.  It looks as if its been converted to mono, but it's actually just a combination of the contrast and the dull day that leaches away all the colour.
Have you ever tried to buy a pad or writing paper. Nobody seems to write letters anymore. Yes, you can buy envelopes in all sorts of colours and sizes, but no writing paper to make the letters to put in them. I tried all the shops in our new retail park and not one of them had writing paper. A reporter's notebook was the closest I came. I dare say email had put paid to actually writing to people. Finally I tracked down a writing pad at a wee newsagent's in Condorrat. I'll use it carefully and then store it somewhere safe, for the next time I need to write a letter.
After dinner we drove up to the Town Centre to go to ballroom class. Tonight we were tackling Waltz Across Texas as a sort of warm up, then it was into the waltz proper. The routine we'd started to learn last week. This time Scamp filmed the whole routine, both the ladies and the mens parts. The second hour was foxtrot. Neither of us had ever done foxtrot before, so this was all new. I think we may have about 75% of the routine in our heads now. It's just the part where we teach our feet how to actually execute the moves that we need to perfect. We did also find a 'bad part' of the dance floor where we always got things wrong. I think we should mark that area with red spray paint to make it easier to avoid, and therefore make fewer mistakes. After Mr Fox's Trot we reprised the Blue Angel Rumba. One of the expert couples even offered to take us through it and that made it a lot clearer. We have a video earmarked on YouTube for that one already, so it just needs a bit of careful watching to identify the individual parts, then they should be easier to join together. I think also I need a new pair of dance shoes. The ones I have keep making the same mistakes over and over.
Tomorrow it's coffee with the guys. Scamp's out with Annette in the morning for coffee too. I think we both need some adult conversation!