When you've got a really small garden like ours, that retains the water when the rains come and ends up turning into a swamp, the majority of your plants have to live in pots.  After we got the fence built, all the plant pots were dumped into the centre of our swampy postage stamp.  Today was the day to put a bit of order into the chaos.  Scamp had decided that since we had moved the compost bin (another back breaker), we should rethink the area immediately in front of the fence.  She decided that we would lay down some weed suppressing fabric and then put some white pebbles on top.  The plant pots would then sit on the pebbles and they would provide drainage.
We drove to Tesco, because they were doing a 3 for 2 deal on pebbles.  Well, they would have if they had any pebbles.  Ok, next stop Dobbies which were also doing the same deal.  Yes, they did have pebbles in a variety of sizes from really small things that were really chips up to big bold boulders and almost every bag was slit open with the contents strewn around.  We've been thinking that Dobbies quality has fallen away sharply recently, and this is the proof of the pudding.  Next stop, B&Q.  They weren't doing any deals, but they did have lots of different bags of different sized and different coloured pebbles.  Scamp decided that the white pebbles were out and large golden chips were in.  We bought three bags, hoping it would be enough.  Getting them into the car wasn't a problem, but I wasn't looking forward to getting them out again.  Scamp wondered if we should have bought a cheap barrow to wheel them into the garden.  In retrospect, we should have.  Truly, retrospect is the only 20-20 vision.  We finished off the front of the border with some big boulders we'd dug out at various times from the garden, and it looks good.  Three bags of chips were almost enough.  Perhaps we need just one more bag, to finish it off perfectly, but it looks beautiful as it is, and anyway, I need time to allow my poor back to get better.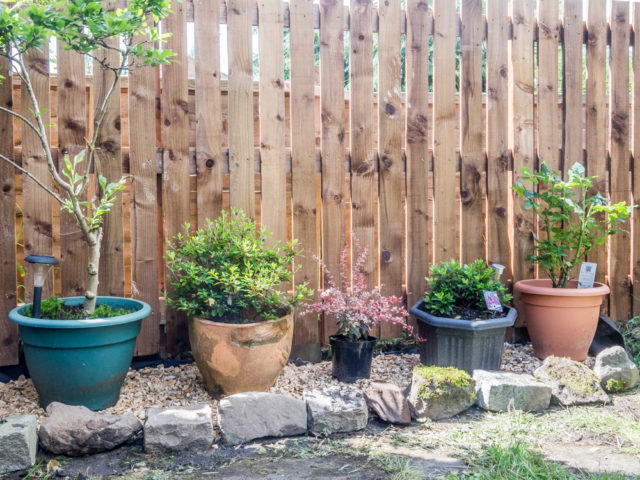 To put some suppleness back into my angry muscles, I went out for a bike run in the late afternoon.  I wanted to photograph a local farm that I've wanted to paint for a while.  I ended up photographing three different farms and small holdings and may manage to get paintings of them done soon.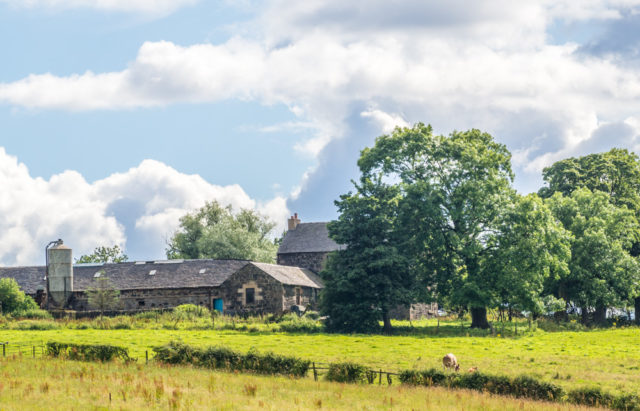 Feeling sore tonight, but the effort was worth it.