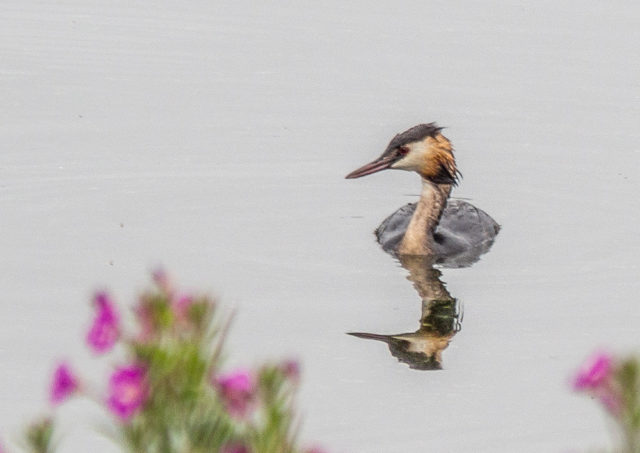 We went for a drive today to Oakwood garden centre for lunch, a light lunch and a great cafetieres of coffee. The garden centre is pretty good too and Scamp can never resist some pretty plants. We ended up with some Big Daisies, a berberis and something unpronounceable with lovely big red flowers. We also had a great lunch. Honest, this isn't an advert, other garden centres are available, but they just aren't as good as this one.
When we got home, I finally got the bike out and cycled for a few miles … in the rain. Rain isn't so bad, even when you're cycling. My uncle Wullie Hutchens was a great hill walker and I remember him telling me that the best way to dress in Scotland in the summer was to wear as little as possible, because when you got wet, it didn't take long to dry again. Partly due to the Scottish weather's ability to produce four seasons in an hour, never mind a day. Remember, that only applies in the Scottish summer, NOT the winter. Two seasons in a day in winter: Wet winter and Cold winter. Anyway, I dressed for the climate. The outside thermometer read 19ºc, so it was boots on the feet, cycling top and cycling shorts. To those in southern climes this might seem a bit risky. Anything below 25ºc requires at least a jacket and longs, not shorts. Just in case, I added a nylon rain jacket. Dressed.
Crossed the dam at Broadwood and spotted a great crested grebe, and got a few shots of it as it went fishing for its supper in the shallows. Didn't see much else all the way out and back. It did rain, so it was a good idea to pack the rain jacket, if only to stop myself getting wet. The rain only got me wet, not cold. Maybe that's because I'm Scottish and Scottish rain is wet, but warm for both the months of summer, June and July. Don't let them kid you, August is Autumn.
Hoping for more sun tomorrow.