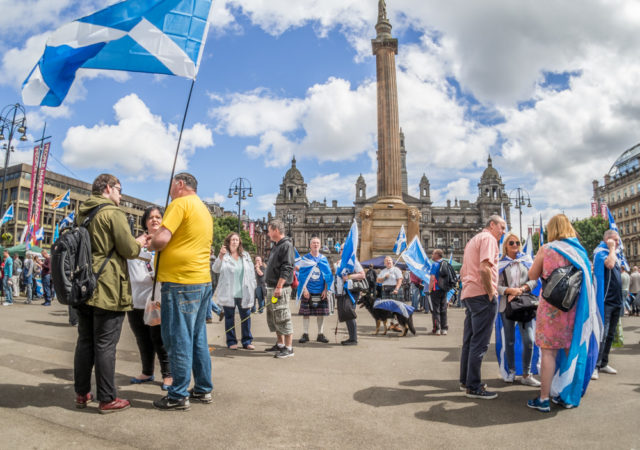 Today was the start of the Merchant City Festival and we usually try to visit at least once during the week or the weekend, depending on how long it runs. This year it's for a whole week. What we didn't know, well I didn't know, because Scamp with her ear to everything that's going on everywhere had already heard that there was a YES2 rally in George Square. Oh dear, I fear I may offend some people here, so if you have nationalist tendencies, it's probably better that you go in to the kitchen now. I'll call you back when I've finished denouncing Nick the Chick and all her deluded followers.
I don't know who was selling the big saltire flags (probably made in China), but they were doing a roaring trade. The world and his wife seemed to have one. If you weren't waving your flag, you had to wear it, like a cheapo Superman cape. We even saw a couple of dogs wearing them, but they didn't look as excited as their owners. Most of the participants had at least some blue paint on their faces too, trying to look like William Wallace, the famous Mel Gibson look-a-like.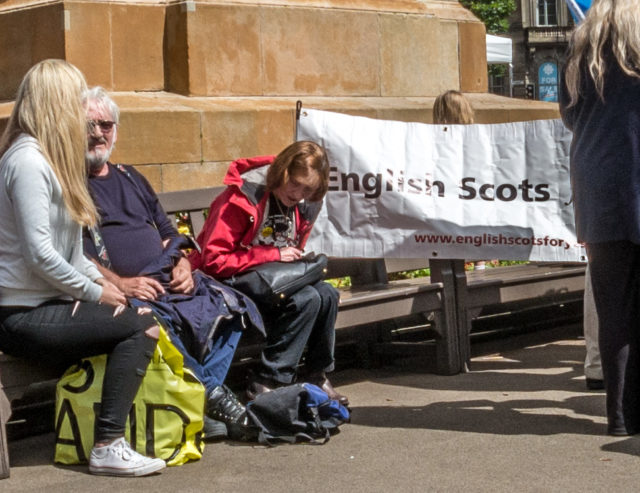 There were even some English Scots.  I do not know what that was all about.  One incensed bloke was bawling into a microphone connected to a loudspeaker. I really should have told him that the purpose of the loudspeaker was to avoid him having a very sore throat the next day. The clue is in the first syllable of LOUDspeaker. He was saying "WE'RE NOT LIKE THE OTHER PARTY" Which other party was never made clear. "WE'RE HAPPY TO LET ANYONE SPEAK. ANYONE CAN COME HERE AND SPEAK" as he held on grimly to his microphone. Everyone else who had come to the rally, and there were hundreds of them, was pumped up with excitement and national fervour. You could easily tell the tourists. They were the ones wandering around, without flags, but with confused looks on their unpainted faces. As I walked through the throngs I was amazed by the amount of excitement and happiness. Give a boy and girl flags to wave on a sunny day and they'll be happy. Give them their own country to run? Aye Right!
I enjoyed looking at the motorbikes, none of which were made in Scotland. Scamp just looked embarrassed.
Right you, you can come back out of the kitchen now. The bad bit's finished.
Wandered down to the Merchant City to see what was happening. As usual there were crowds of people there. A few 'maddies' wandering around entertaining the punters, like the four blokes standing on one of the marble 'pews' in the pedestrian area. They were spray tanned, wearing plastic nappies and miming in harmony – think synchronised swimming on land … with nappies! Bands were playing their wee hearts out and food stalls were selling every kind of food imaginable. You could even challenge Andy Murray Live to return two of his serves. One man said "It's no' even the real wan! It's jist a big TV screen." Come on pal, what did you expect? The double winner of Wimbledon standing there trading shots and insults with the cream of Glasgow's shell suit wearing tennis afficionados? I don't think so.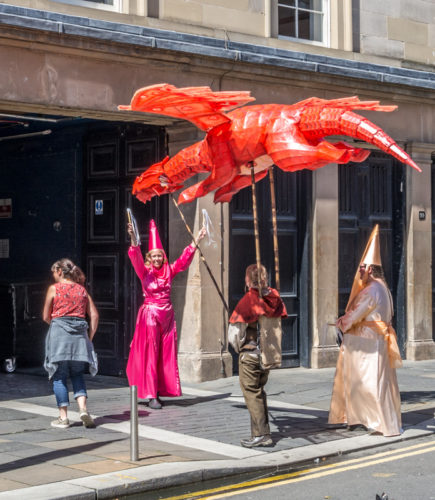 Maybe it was the smell of the street food, but we both agreed it was lunch time and headed off towards the Italian Kitchen. Lovely lunch. It's far too long since we last darkened its doors. Hopefully it won't be long before we are back.  Scamp had Salmon with a pesto sauce fried potatoes and a side salad.  I had salsiccia and chilli pizza
On the bus back, one wee boy recognised me as his ex-teacher (I nearly slipped up there and said 'old' teacher). Scamp said "You see, somebody remembers you!" That kind of made my day a bit brighter.
Joke:
A Scotsman, and Englishman and an Irishman go in to a bar, but they couldn't stay. They had to come out, because the Englishman didn't like it.