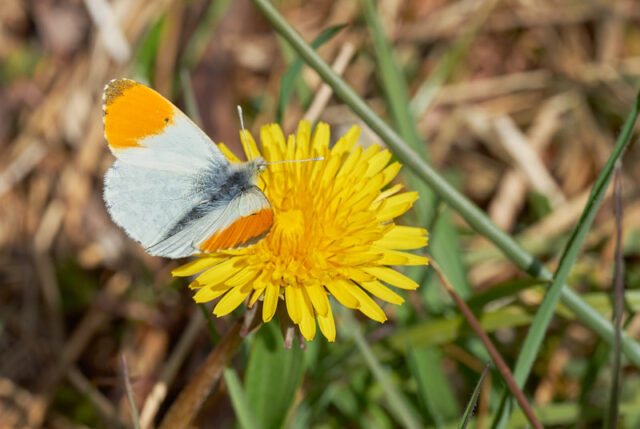 The butterflies almost won.
Scamp was off having coffee with Annette and I had intended to start a watercolour practise piece in preparation for Every Day in May, but then I though it would be a good idea to give some of the plants their freedom and planted out half a dozen peas and the same amount of kale. The peas were grown from last years peas, but the kale was bought as plug plants. With that done and a cup of coffee I started yesterday's Sudoku. I was just getting to the sticking place with it when my Fitbit reminded me that I needed to get off my backside.
It was dry and the sun was shining, but I knew from my gardening that it wasn't all that warm out there, and of course there was the risk of a wee April shower, so I dressed appropriately for a walk in St Mo's.
A lot of the fruit trees in the park were beginning to show off their blossom and I took a few shots of them, then I went looking for damselflies to photograph, but there were none. It must be almost time for them to crawl up the reeds, shake off their shuck and fly away. However there were none today. Further into the woods there were a host of butterflies. This time of year, late April and early May is the time to catch the Orange Tip butterflies. That's what I started chasing. However, every time I got near to one it would fly off, leaving me empty handed. Finally one landed on a dandelion flower and I did get the chance to shoot a few frames of it. It was one of them that made PoD. Lunch was beckoning and I headed home.
I hadn't been in the house five minutes when the rain started battering on the window. That was lucky. I'm not usually as lucky. I'm usually just thinking about coming home as the first drops start falling. The first drops of a downpour.
Scamp arrived just after I'd finished lunch and I went off to go shopping in Tesco. I saw a good deal on true headphones and treated myself. It took me ages to get them paired to my phone. They paired right away to the tablet and to Scamp's phone, but point blank refused to connect to mine. Then, suddenly they were working and at full volume. I think I've manage to get the better of them now and they are behaving quite well. Time will tell if they are as useful as I think they'll be.
I'm still thinking about getting another MacBook Pro, because although I got the old MBP to run Mojave after a little tweak, it won't run the new editing software, I'm guessing its because the processor in the MBP isn't quite up to the task. I've seen what I'd like now and Scamp agrees with me, but I'm still not sure. I'll sleep on it, at least for tonight.
With that in mind, I'm off to bed. No real plans for tomorrow, other than buying a bottle of something for a man who has everything. No JIC, it's not you, although you do almost qualify!