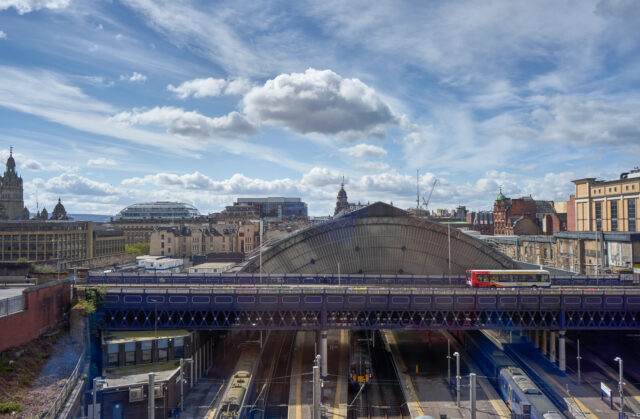 We finally got to go into a shop that wasn't M&S, Iceland or Tesco.
We drove in to Glasgow and walked around JL. Well, where else would we go as our first stop. Saw a lovely MacBook Pro 13", i5 processor, 16GB memory and 512GB SSD storage. All for a mere £1,555! However I'd prefer the Space Grey version with 1TB storage for £1 short of Two Thousand Quid! I looked, smiled and walked away. I did look at reasonably priced used PCs, but that would be a backward step too far. I'll buy a lottery ticket this weekend instead.
From there we walked down Bucky Street, staring in admiration at the tough nuts who were sitting outside a restaurant drinking champagne. It was 6ºc today, but they do say champagne should be served chilled! Apple were obviously doing good business with queues both sides of the door and two security staff keeping out the riff-raff. We walked on.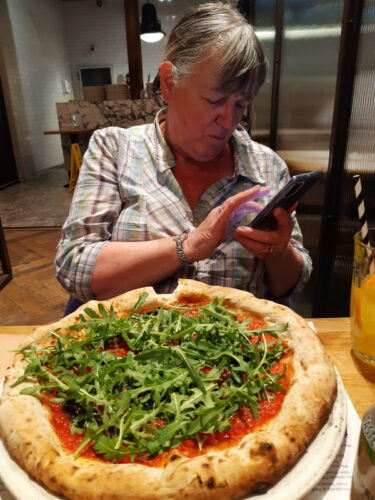 'Every Day in May' is about to start on Saturday and I treated myself to a box of watercolour tubes and a watercolour palette. When I came out of the art shop Scamp was waiting for me and she suggested we try to get a seat in Paesano for a first sit-down pizza this year. Surprisingly we got a seat right away and Scamp had her favourite No1 – Tomato sugo no garlic, oregano and rocket. As you can see she had to get a photograph of it on Facebook right away. I had a No 5 Prosciutto cotto (Italian cooked ham) with mushrooms, tomato sugo and mozzarella. No photograph! Just as filling and delicious as usual.
After an early lunch we walked down Miller Street to shake our heads in amazement at the folk queueing along Argyle Street and up Miller Street patiently waiting for a chance to enter the hallowed halls of Primark. I have never understood the attraction of Primark, although I did buy a baseball cap there a long time ago and it's still wearable yet!
We walked back up Bucky Street and drove home. When we got in there was a Blue Envelope waiting for Scamp. That's the envelope that gives you the date and place for your vaccination. This was Scamp's second jag. The date was 3rd May, the time was 2.15pm, the place was East Kilbride!!! She went ballistic. It's not often I'd describe her like that, but she was. We tried to go online to change the appointment to somewhere sensible, but there were no appointments available anywhere else … in the world, I think. Eventually we agreed that we'd just keep it at East Kilbride. Later in the afternoon I went through the whole shouting match again, this time with Fred who was also going to East Kilbride for his jag. He had found the same wasteland of "No Appointments" online, but he'd tried phoning. He got through to the appointment office and got a message "You have reached the vaccination appointment office. The mailbox is full. Goodbye." This is the caring face of NHS Lanarkshire. I don't know how you could get from Cumbersheugh to East Kilbride if you don't have a car. You'd definitely have to take a flask and pieces!
PoD was a picture of Glasgow under a lovely cloudscape, taken from the JL bridge. It was an interesting, but at the same time disturbing visit to Glasgow. Interesting because it was good to see life beginning to return to normal, that much misused word. Disturbing because many of the shops are closed, some for good. Debenhams was the most disturbing because I've never been to Glasgow and not seen someone coming or going through those doors. The doors that are now locked. But nothing stays the same forever. Things will change. Places will open again. Someone, somewhere is planning right now to fill one of those empty spaces.
I'm writing this on my old MBP which seems to be happily running MacOS Mojave which it legally can't do, but it does! That brings a smile to my face! Tomorrow, Scamp is hoping to go for coffee with Annette who has just returned from her first visit to her caravan this year. I may get started with those new paints.