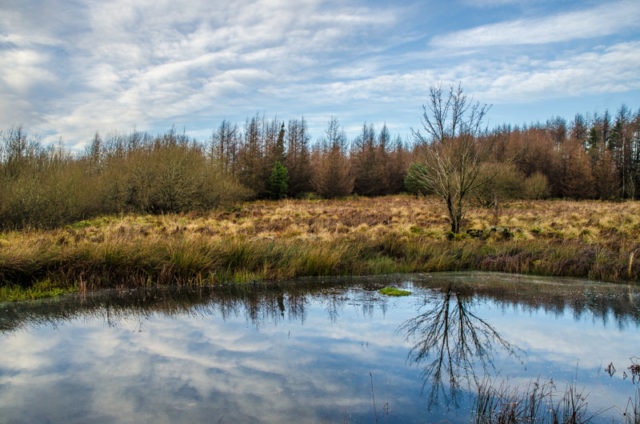 We looked out this morning and decided today was going to be an inside sort of day.  It was raining and the clouds were low.
I hauled out the old HP computer from the cupboard in the back room and proceeded to plug things like a keyboard, a mouse and a monitor into it. It looks very complicated at the back of an old desktop. The back of the iMac has a few USB ports, a couple of Thunderbolt sockets, an Ethernet port, a headphone socket and a card reader aside from a kettle plug socket. They all sit in a neat row. Not so the old PC. It's got two monitor sockets, four USB sockets a Firewire 400 socket and RS232 port an Ethernet port, a socket for an aerial for WiFi, mouse ports, speaker sockets, keyboard sockets. That's only the back. The front has even more USB, Firewire and other ports for plugging in a toaster, a microwave oven and a thing for taking the stones out of horses hooves. Is it any wonder that the power supplies fail fairly often? Well, here's the most surprising thing about the whole shebang. I plugged in the keyboard, the mouse, the monitor and the power supply. I switched it on and it worked. First time. It loaded WIndows XP and was ready for business in about five minutes. I was astounded. It takes longer than that for my Win 10 laptop to get past the POST screen and I'm not kidding. Most of the rest of the day was spent investigating all the files I'd stashed away in this leviathan. Its pair of massive 250GB hard drives were loaded with software, files and photos that hadn't seen the light of day for about nine years. HP should use this as a new marketing campaign. HP Old Tech "It Just Works".
The Snowman™ table cover had to be cut down to size today. Today we weren't 'squaring the circle'. We were 'circling the square'. Actually Scamp decided that she'd rather have an octagonal shape rather than a circle. I was happy with that, because it's easier to cut four straight lines than one circle. At least, if you want it to look reasonable. It was put in place after that and it's sitting right in front of me as I type. I have to say it looks really good. Super glad I bought it now.
The rest of the day was just spent lounging around, well for me at least. Scamp had 'busy' things to do and I was happy to let her do them. I went for a walk over St Mo's and got the photo you see at the top of the page. It's not brilliant, but it's a fairly decent landscape. It's not the landscape that made me take it. Here's what I wrote about it in Flickr:
Loads of frogspawn in the pond in the spring, then damselflies a little later followed by dragonflies later in the summer. Today, all that was visible was water on top of ice. However, I know that below that there is life waiting to evolve into walking flying creatures next year when the temperature rises again.
That was about it for the day.
Tomorrow Scamp is meeting Nancy for lunch and I may go for coffee in Perth, or I may not. There, Indecision is my byword.