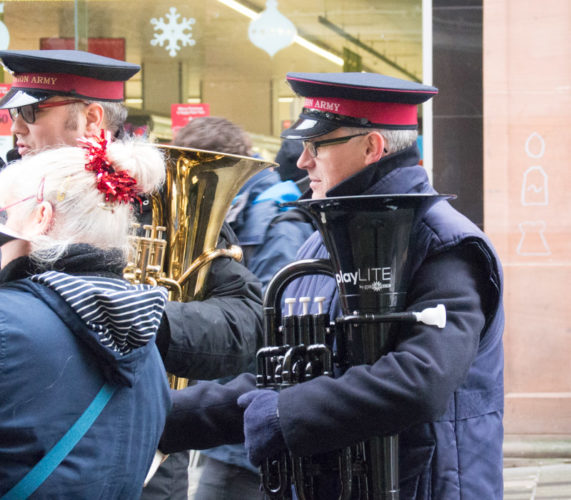 Up fairly early for a Saturday defrosted the car and on our way in to Glasgow to do some Christmas shopping.
Like I said yesterday, get the pain over with early. Parked no problem and the streets were almost clear of ice. In town we agreed to go our separate ways and meet up in about an hour for a coffee and an update on our progress. Actually, for once we were both finished early, so we went for a coffee and a wee pastry in Nero in Sausage Roll Street. While I was getting our order in Nero, the bloke next to me, about my age I'd guess, was huffing and puffing. I turned to him and said "It's not that bad." He just looked at me and said "Oh, it is. We're just starting the shopping, but we're having a coffee before we get going." I didn't have the heart to tell him we were finished and on our way after our coffee.
It was good to drive home knowing that we had the rest of the day to look forward to, with some shopping done. In town, I'd gone in to Mandors to look for material for a project I've got in my head and came out, instead, with a piece of vinyl printed with the Snowman™ theme. I thought it would make a good table cover. It cost a bit more than I had intended, but when I saw Scamp's face light up as she saw it come out of the bag, I knew it was a winner.
I drove to Tesco in the afternoon, but the weather was not really good enough for a long walk so I just came home and enjoyed an hour or so not doing anything. I'd managed to get a couple of shots in Glasgow and really liked the one of the Salvation Army euphonium player so that's why it's PoD. I was sure that instrument wasn't made of metal and eventually went over and asked him if it was plastic. He just smiled and said "Yes". It must make an appreciable difference on the player's back carrying a plastic instrument rather than a big hulking metal one. I checked when I got home and the whole thing weighs only 850g.  My next favourite photo was the sea of faces below.

Dinner was at J&M's in Hamilton. A good night entertained by Ross and John. Food was lovely as usual, just what we've come to expect from Marion. Chicken with Tarragon served with carrots and potatoes in a cream sauce. Banana cake with Creole sauce. Not too late home because the temperature was dropping again.
Tomorrow? Not much. Probably cutting the rectangular Snowman™ table cover into a circular one.