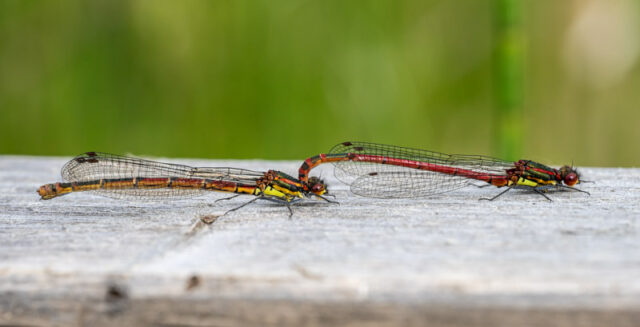 For the first time in ages we had a quorum when the call went out for coffee.
Scamp was away first to meet Veronica for a walk around Broadwood Loch. I was next, away to meet Val for coffee. We had barely sat down when Colin joined us. I'd missed his reply to my email invitation. For the first time in ages most of us were available. Fred had to call off as he was taking his wife to a hospital appointment. As you can imagine, discussions were wide ranging and interesting but without politics rearing its ugly head. Time just flew by and it was Val who had to leave first to meet his wife to go shopping. That seemed to break the spell and we all left to go our separate ways.
Back home and after lunch, Scamp drove us up to Tesco and we did a bit of shopping. Just essentials today, although I did get a few bottles of beer and Scamp selected a suitable bottle of wine, oh yes, and some ice cream. Like I said, just the essentials.
Back home, I grabbed the Sony with its big, heavy, slow macro lens, put it in a small rucksack and went over to St Mo's on a damsel-hunt. I couldn't find anything worth taking the camera out of its bag for, but wandered round the pond and then tried again. Immediately I found a couple of Large Red damselflies sitting on the upstand of the boardwalk. Took a few shots, then went looking for a dragonfly or two, but none were there to be found today. Walked back and found the two damselflies were now joined in the mating position with the male grasping the female at the back of her head. They sat quite patiently and gave me the opportunity to get some detailed photos. The Sigma 105mm may be big, heavy and slow to focus, but it really does resolve a lot of detail when it gets the chance. The mating pair became PoD. The rucksack makes it much easier to carry heavy kit like the Sony/Sigma pair although it is a bit more awkward to get quick access to the camera compared to the black Lowepro sling bag.
Scamp went out to sit and read in the garden later while I made Paella for dinner. It turned out really well although I hadn't done anything different to what I'd done many times before. It's probably just an extra gram or two of spice or herbs that tilts the flavour enough to make things taste different.
Tomorrow we may go out to get some more compost for the rhododendron and I may shovel some more earth on the potatoes which are showing their green leaves above the soil again.