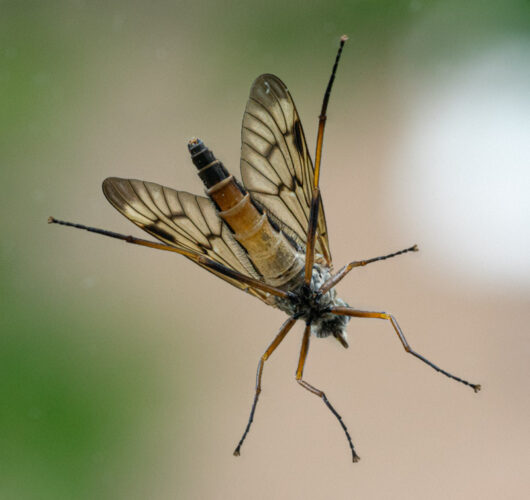 Today dawned dull, cloudy and wet.
It wasn't actually raining when we woke, but it had been. The streets were wet and those clouds showed no sign of breaking up any time soon.
After we finally got out of bed and dressed we noticed a visitor on the kitchen window. I don't know what kind of fly it is, but I'm sure I've seen one before somewhere, probably on a window. I got a few shots with the Oly then for good measure, I took some more with the Sony. Sony won hands down. That was six shots in the bag, and one of them became PoD, but only after a fair bit of work. The great thing about the Sigma 105mm macro on the Sony is the detail it finds in things. The bad thing about it is the detail if finds in things. I'd washed that window on Monday or Tuesday. Today was Thursday and the window was covered in pollen which the camera and lens captured just as perfectly as it captured the detail in the fly's wings and body. It took about an hour's work to retain the fly's details while blurring out the dust and pollen from the window glass. Photoshop is a cracking tool once you have time to work out how to use it!
We drove to Falkirk in the late morning to pick up our wedding rings that had been faultlessly repaired by the lady at McMaster's. Mine cost nothing to resize, presumably because she could reuse the gold dust she'd cut off and because it was only 9ct. Scamp's on the other hand was quite expensive because it needed a relatively large piece of 18ct gold inserted. It doesn't matter, we are both now wearing the rings we exchanged when we got married.
On the way back we stopped at Torwood to get a pot and some compost to plant Scamp's new rhododendron. After lunch Scamp started the baking of a tray of 'Brookies' which I'm told are Brownie Cookies. I went out for a walk in St Mo's and continued on to the shops to get milk and some marshmallows which I seem to have become addicted to recently. No photos were taken in St Mo's because there were no insects of any description flying today. When I got back home the baking was in full swing and by dinner time there was a box of Brookies to share. They weren't as sweet as the usual brownies I've tasted, but had a nice crunch to them. Lots more there for tomorrow.
The clouds finally parted and the sun shone for an hour at night and we had a walk in the garden, deciding what to put where now that there's a new plant to fit in. We're still not decided on the final position, but I'm sure we'll find enough of a space to squeeze it in.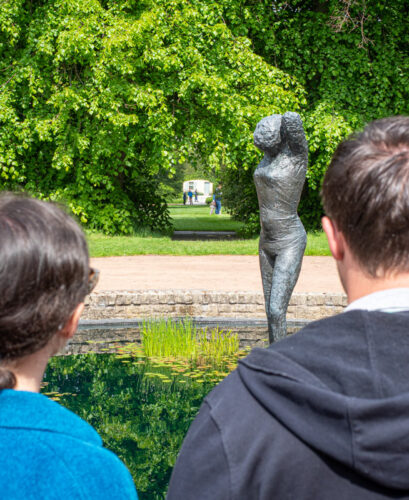 I'm adding another photo from yesterday into today's blog. Walking round the gardens yesterday, I found what looked like a good composition looking past the Reg Butler sculpture 'Girl', through the gap in the hedge to the people in the distance. However these two folk wouldn't budge. In frustration, I took the shot anyway, including them. Just as I was pressing the shutter I heard the girl say "It's not a very good sculpture is it? It looks corroded or something". To which her partner replied "Hmm."
Those who Can, Do. Those who Can't, become critics. Thank goodness for the almost silent shutter on the Oly!!
Tomorrow I'm hoping to meet Val for coffee and a catch up and Scamp is intending going walking with Veronica.