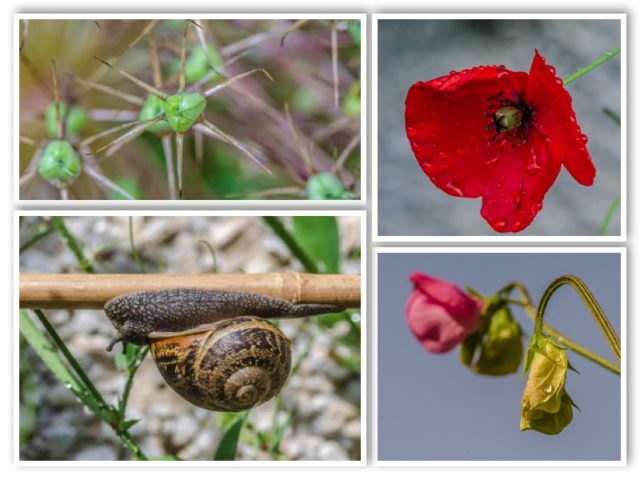 Scamp saw the snail crawling, upside down, along the sweet pea frame this morning, but by the time I got my shoes on and grabbed the camera, it had reached the corner and was trying without success to navigate the cross bracing I'd put in to keep the frame rectangular and more stable. I took a couple of shots, but knew they weren't going to work. Always better to take the shot and reject it later than to not take it and later regret not having at least a record of the event – A Zog Maxim. Later, I checked and Mr Snail had given up the challenge of the cross bracing and was making his way back across the bamboo, still upside down. This time I had him. Got the photos of the poppy, the sweet peas and the star shaped seed pods of the allium at the same time. However, I knew the snail shot was the winner.
Gave Costa's manky Americano the bum's rush today and had a fairly tasty Mocha Cortado. A bit sweeter and less claggy than the standard Cortado. I was meeting Fred for a chat and a chance to show off my paintings – One finished and one in the finishing stages. We swapped stories and critiques on pictures plus I got a roll of canvas from him and he got a watercolour block from me.
Went shopping for a dash cam in Halfords and found there is quite a range from about £40 to over £140. I imagine if we get one it will be mid range. They look quite useful, but so many folk on the net have so many different opinions on what's best. What features you should have and what features are just surplus to requirements. Of course, some folk are trying to make you buy a product they are sponsoring. Do they help if you are in an accident? I'm not sure. Yes, they probably do now, but in the future when everyone has one will it just muddy the water? The jury is still out.
Came home and finished off the painting of Kotor bay with the two little islands.  Quite like it.  Heavy on the impasto though it is.  Scamp made dinner and it was an old favourite, Carrot and Chickpea Curry, which isn't all that curry like because it's not very hot, but today's offering was very, very tasty. Even better, there's some left over for tomorrow's dinner!
The reason I couldn't get the snail shot this morning was because I had my 'ballroom shoes' on. I got them years ago when Scamp and I were taking ballroom lessons. I've hardly worn them because they're not the most comfortable shoes and they look a bit posh. However, I reckoned they would be better than trainers for dancing on a dance floor, so I wore them about the house this morning to break them in again. I wore them tonight to the beginners class and they do make turning a lot easier. However, Jamie G decided to do Kuduro at the end of class and I had visions of me landing flat on my face or worse still doing the splits so I chose the easier path and changed back into my trainers, just in case.
There were a lot more people in the advanced class than last week. Word must have got out that Shannon was threatening to close the class down. We'll have to see what happens next week. Hope it stays open. It's a bit more relaxing than Monday's advanced as we've done most of the moves and feel more comfortable with them.
Tomorrow is looking like another good day. I may go car hunting.