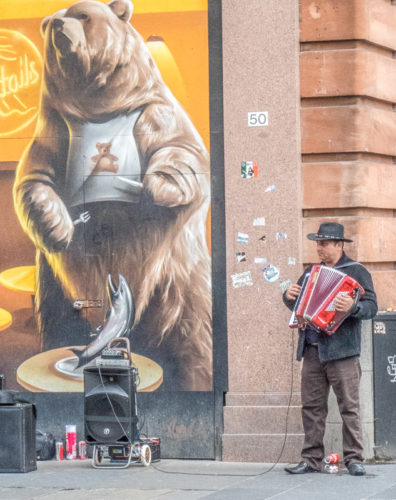 Most railway stations have a newsagent or a coffee takeaway nearby. Not Lenzie. Lenzie has a psychologists office. I think that says a lot about the town. On the other hand, maybe it says more about me, because I noticed! Anyway, just an observation. Take of it what you will.
As you will have gathered, I took the train in to Glasgow. I managed to get the only, yes, the ONLY parking space in the enormous Croy Station carpark. Granted it was about a half mile walk to the station, but I was parked, and in a space. Not on a flower garden, not up on the kerb or in a turning circle, but in a space. On a Thursday, that is no mean feat. Had a wander around Glasgow. I had thought about having my hair cut, but rejected that until the autumn sets in, in September. What I was looking for was a cheap box of water soluble oil paints. I know, that sounds like an oxymoron, but they do exist and are very good. They have the feel of oil paints without the need for solvents. The smell of the linseed oil or the turps doesn't bother me, but it does leave a lingering smell in the room that permeates to the whole house. I was also looking for a small watercolour block that I got in Tiger at the weekend and swapped for a roll of canvas when I met Fred yesterday. Like I wrote earlier, it wasn't the best watercolour paper, but it was cheap and a neat size. Unfortunately the first shop I went to had none and the second only had the larger size which would have cockled (buckled) more when I put a wet wash on. On the way back I bumped into a group of young American guys (note the capital letter – If you don't know what I mean, click here). They were lost and looking for Gordon Street. I couldn't for the life of me remember where it was. I said sorry and walked on, then I realised that Gordon Street was the next street down. Walked back and told them. I also asked if they were going to the station. They said no, they were looking for a sports shop called Reeves. Reeves is a paint manufacturer, I was on my way to get some paint, so I just shrugged and said good luck. I was going the same direction as they were, so not wishing to crowd them, I slowed down. Almost at Gordon Street and the database in my head filtered out the answer to their problem. The sports shop was Greaves. One of the oldest sports shops in the UK if not the world. Tapped the leader on the shoulder and pointed at the illuminated sign behind him. His smile told me that's where they were going. Isn't it nice to do someone a good turn? The answer, which can be on a postcard if you wish, is YES!
Found the paints for a bargain price in Cass Art and got a canvas the exact size and proportions I wanted in Millers. Pity about the Tiger watercolour block, but I'll keep looking for it. Headed home to find that they have eventually started the rebuild of Queen Street Station with hoardings all round the block and only a small entrance / exit to Dundas Street. Of course, because it was such a small entrance, some idiot english (same rules apply) family of about ten folk were blocking it. You don't do that in Glasgow. People will just barge past, through and over you whichever takes their fancy. I did the 'past' option. Others took the 'through'. I didn't see any 'over' supporters, but then it was Thursday. Now if it had been a Saturday just after full-time and Rangers had been robbed by a blind referee, there would have been carnage.
Today's PoD was taken on Argyle Street and is entitled Simon Smith and the Amazing Dancing Bear.
Only had to wait about ten minutes for a train and that brings us neatly back to the start!
Met Duncan for a 'wee chat' and to hand over some books tonight. It was really good to hear his version of what day to day life is like in the school three years down the line. I really enjoyed the catch up and will probably take up his offer of a visit to see how the department works now. However, I have no intention of taking up his other offer of me doing 'supply'. Oh no, I have a different life now and nothing will make me give it up.
Tomorrow June and Ian are coming for lunch.  Pannacotta is already made, cooling and hopefully setting.