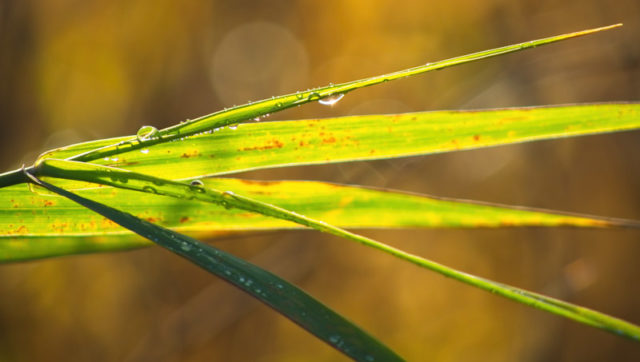 Hopefully a caffeine injection would jolt me from my lassitude.
I don't think the coffee did any good. It was Costa coffee after all, but the conversation with Val and his enthusiasm for his new-found interest in ornithology via his bird cam brightened my day. He'd built the bird cam from bits and kits bolted on to his Raspberry Pi micro computer. The results were impressive. So impressive that I began to think I might have a go at it. Then he began to explain the coding side of it in Python and another exotic programming languages and I could see hours and hours of error trapping and bug finding in lines and lines of code. I've done that in the past and know just how much of my life I sacrificed to it. No, I decided. I'd waste my time and money on hands-on photography instead.
My hands-on photography today was done along the banks of the Luggie Water and the PoD is of a couple of leaves of grass with some raindrops. Simple and quite effective.
Got home and found an email from ON1 explaining how to fix my problem. I tried it and it didn't work. Another email to the Techys. Then it was time for dinner (Spaghetti a la Campbell). Basically it's just mixing together stuff that's in the fridge and with some base tomato sauce and chucking in some spaghetti. Sometimes it works and sometimes it doesn't. Today's mixture of bacon, cherry tomatoes, onions and garlic with a good tin of tomatoes got a better than average vote from both of us.
Next we were out to Salsa. Really small class for the 7.30 group. Most unusual for this crowd. In fact it now looks as if we will be banished to the 'wee room' next week. That's something that hasn't happened for ages. Scamp reckons it's because Jamie G has been off working at his real job or on holiday somewhere for odd Mondays since the summer. I think he's right. When word gets out that he's not here, the class numbers plummet. We caused a stir tonight as well when I told Shannon in front of the class that we wouldn't be going to the Christmas Ball on Saturday because the ticket says 9.00pm start and now it looks like it won't start until around 11pm. That's too late for us. We're not like the youngsters who are happy to dance until the early hours. We'd expected to be leaving around 11pm, not starting then. I think the galling thing is that she knew about this change, but kept it a secret. That's the really unfair part of it. Oh well, the cat is out of the bag now and she can lump it, because we don't like it.
Got another email from the Techys at ON1 with a file that sorted out the problem I'd had. I have to applaud their speedy response to questions and problems. That's what makes you stay with a company.
Tomorrow Scamp has a lunch appointment and I may go take some photos.