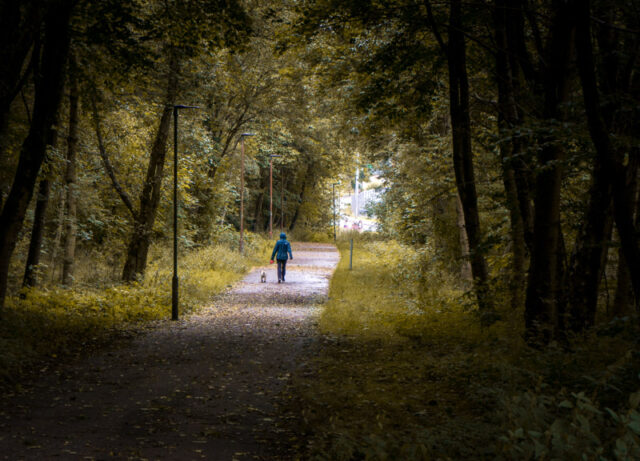 With a few sunny spells too.
We've promised John and Marion that we'll be at her dad's funeral tomorrow in High Blantyre at 10am. We were up fairly early today, so we left the house at 9.30am to do a trial run to the crematorium to check out the traffic at about the time we'd leave tomorrow. We arrived almost at 10am, so our intended leaving time of 9.15 tomorrow looked ok.
Instead of coming straight home, Scamp suggested we go to Drumpellier for a walk round the loch. She hasn't really been out of the house since Monday, so a walk in the park would do her some good, and do me some good too. This is the last week of the school holidays with teachers going back to work today and tomorrow and those lovely children (yes, that was sarcasm!) going back on Monday. There were quite a lot of children making the most of their last few days of freedom accompanied by mums, dads, grans and grandpas, all glad to see them going back to school. Add in the usual pensioners getting in their daily exercise and you can imagine, it was a busy place.
We walked the usual "travelator" circuit for a bit and then took one of the paths into the woods just to get out of the crowds. We walked through the Peace Garden which was looking a bit sorry for itself with long grass, weeds and overgrown bushes. Such a shame that the council doesn't do more to keep these places tidy. Yes, I know they are strapped for cash, but it isn't until you work for a council that you see the money that's wasted every year. I guarantee there are ways the council could redirect some of that wasted money to make these places look better. However, in doing that, they'd be admitting that the money was wasted in the first place, so it's never going to happen.
We left Drumpellier to the mums, dads, grans and grandpas, plus the weans, of course and headed for Morrisons at The Fort. Just messages today. No time for essentials like gin or whisky, so no fun either. From there it was back home.
After lunch I spoke to Fred on the phone for about an hour and heard his news.
Up until then it had been a fairly pleasant day although the clouds were gathering now. I was just putting my jacket on to go for a walk in St Mo's when the rain started and it was heavy rain. The shower lasted about half an hour before it dwindled away to just the occasional spits and spots. I took that as a sign that I'd get a second walk of the day. I was walking over to St Mo's when I saw a woman waking her dog on the footpath through the trees. Once I'd retrieved the Wee Dog from my rucksack and focused I had a chance to get three decent shots. In one of them the woman was standing in a patch of sunlight. That became PoD. A bit of 'shopping' to get it from the raw image to the one you see here.
Some recipes are fickle. You make one mistake and the whole thing turns to a tasteless mush, or a bitter inedible mess. Carrot and Lentil Curry isn't like that. I used the wrong seeds. Should have been fennel and I used cumin. I used double the amount of lentils. I missed out the garlic that should have gone in. I even allowed it to burn dry. However, it turned out really alright! In fact it tasted better than alright and that wasn't just my description, Scamp agreed. That's a good standby recipe, one you can work with.
Quick dance practise tonight because I really need to concentrate a lot more on steps and frame and a hundred and one other things. Tina Tango was looking better after some help from dance maestro Scamp.
Tomorrow a funeral in the morning and then the rest of the day will, hopefully, be our own.