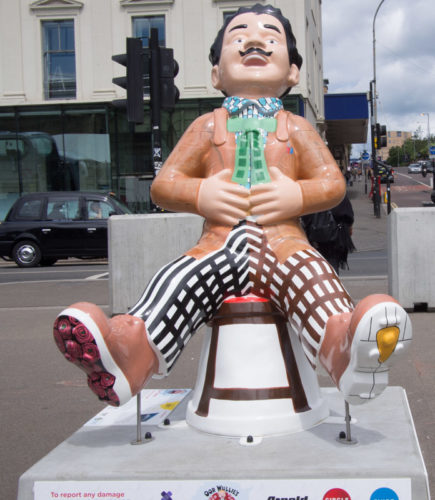 The dancing was in Glasgow and the Wullies were of the "Oor" variety and were everywhere in Glasgow.
Spent the morning making a set of Wales photos to go into a gallery on this website. They aren't quit ready yet, but hopefully they will be soon. After lunch we drove in to Blackfriars for a torturing class of ballroom and jive.
It wasn't that the moves were difficult, or even new. It was just that we'd had Wales and walks in our heads for the last week, with no time for dancing or dancing practise. Now it was all a blur again. At least that's what it seemed like for me. Jive didn't jell. Waltz didn't flow as it should and although Quickstep was better than the other two, it too wasn't "Our finest hour" as Scamp described it. A cup of coffee afterwards helped with the pain, but a lot of practise is needed before next week.
Then, there were the "Wullies". They were everywhere we looked. They were painted "Oor Wullies", made of fibreglass and larger than life size. After some research when we got home, I discovered there were 59 of them dotted around Glasgow and the West. The first one we saw, and my favourite so far is Oor Charles, modelled on Charles Rennie Macintosh. I got a few more, but Oor Charles got PoD. If this paragraph made no sense to you, then:
You should read the Sunday Post, just the comics page though.
Wait until we get to The Broons.
Salsa tonight for me was only about the 6.30 class. The 7.30 class was oversubscribed in leaders, so I was superfluous and took myself out to be doorkeeper. That's where I wrote most of this blog. The Intermediate class at 6.30 were doing Pachangero which is one of Scamp's favourite moves. They are a really good class and most of them are picking up the moves really quickly. Scamp drove tonight which made life a lot easier for me. Thanks S.
Tomorrow we have no plans. Maybe go for some messages!