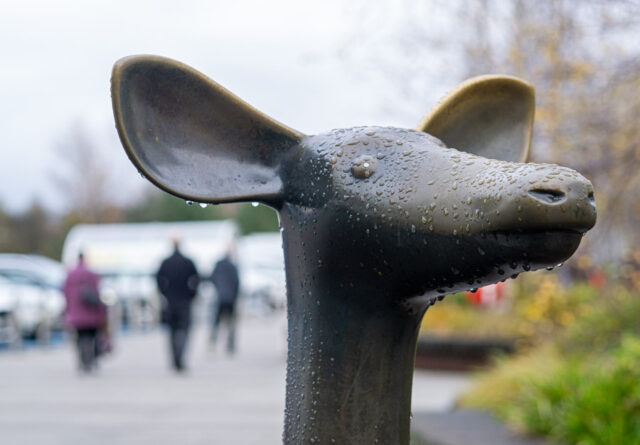 Today Scamp wanted to go to The Fort today.
Before we went I added some air to the Blue car's tyres. They'd all been down by about 4psi. Strange that they should all be down by exactly the same amount. It makes me think that all the tyres had their pressure reduced during their service in September. I hadn't checked, but who checks the pressure in their tyres unless they look a bit flat and mine didn't, but I felt the steering was a bit heavy last week and noticed the drop. Thankfully Scamp had a fairly new automatic inflater and it didn't take long to get them up to snuff.
Drove to The Fort and Scamp masked up and walked into M&S while I went for a walk along the curving frontage of the retail park, looking for Paperchase or any shop that sold pens. No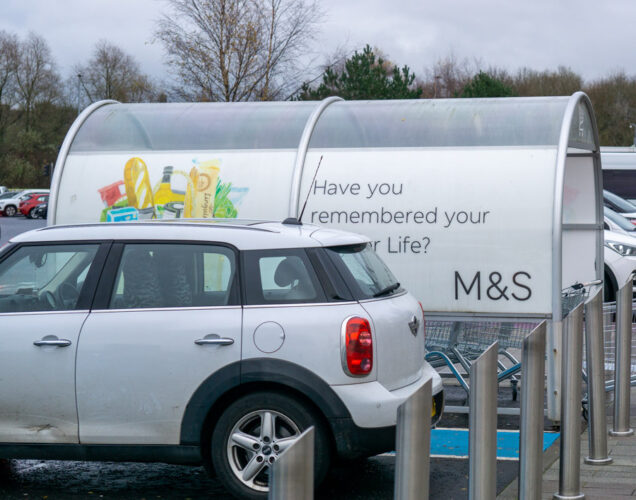 Paperchase and not much luck finding a pen. Does nobody write any more? Oh dear, that makes me sound so old 🧐. Plenty of clothes shops and if you're looking for a pair of trainers you'd be well catered for, but no pen shops. I walked back empty handed. Met Scamp in Waterstones then we went to NEXT and Boots then I was dismissed to go to Costa and get the coffees in. As we were walking to the car after the coffee, I saw this sign with part of it obliterated by a parked car. I laughed, glad that I'd pocketed the A6000 before we left the house. We also saw the bronze deer statues and one of them with raindrops became PoD.
Back home and after lunch I got my boots on and grabbed the big camera, then went for a walk round part of St Mo's, took a few photos, knowing that they'd have to be good to beat the ones from The Fort. Then I waked to Condorrat to post the 25 cards we'd written and stamped at a ridiculous cost. When I was buying the 25 stamps at the post office I laughingly complained that they cost almost 10 times what the cards had cost. The lady behind the counter replied "But they have to go a long way". That got me thinking what would the total mileage all those 25 cards travelled? Thought for the day!
Dinner was slow cooked Prawn & Pea Risotto. Done the proper way in a pot with loads of butter and a great deal of care. Not like my usual method of letting the oven do the hard work. Tasted good though, so worth the care and attention.
Tomorrow we're off to Hairmyres early in the morning. Hoping to get some answers to questions that have been buzzing round both of our heads for over a month now.