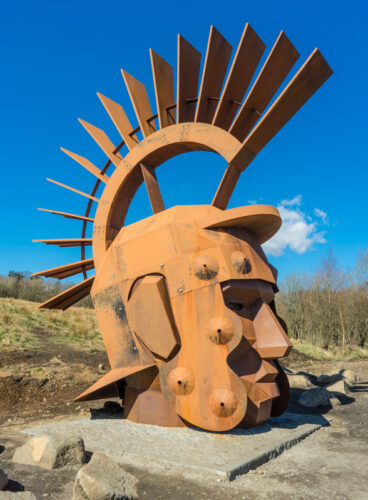 It was a lovely day and we had already decided we'd go for a walk up Croy Hill.
Croy Hill is the easier of the two local hills. Bar Hill is a longer slog and nowhere near as dry underfoot as Croy Hill. Both of them were the sites of forts in Roman times. Little remains of the fort on Croy Hill, but on Bar Hill the remains are much more obvious. The initial climb was hard work, but then we'd a gentle rise up to the gate that leads on to the hill proper.
The hill was hoachin' with walkers. Families, couples and solo walkers too, all headed up and over the hill from both east and west directions. I think one thing was attracting them. Rumour had it that there was a new occupant of the hill. He was over 6m tall and a bit of a hard man. Some called him Silvanus, the Roman's spirit of the fields, but to me he was Heavy Heid. We were expecting to see him just outside Croy village, but there was no sign of the giant man. It wasn't until we were walking down the other side towards Dullatur that we got our first sighting of Heavy Heid. He's quite an impressive sight, looking out to the north and the wild tribes he was helping to protect the civilised southerners from. He was designed by Svetlana Kondakova and really looks the part of a roman centurion.
We took some photos of Heavy Heid, one of which became PoD and then headed back to the car by a lower path that turned out to be the track of an old mineral railway that carried the coal from a colliery near Auchinstarry to the steel making plants of Glasgow and the rest of the central belt. Found some Wood Sorrel plants which are related to Oxalis. Signage on the path could have been better, but luckily there were some walkers out today and they helped us by giving exact directions to get back to Auchinstarry.
Back home in time for lunch. It was an interesting walk. Strenuous climbs in places and then quiet walks through the woods beside the canal. A round trip too, which is always a good thing. I hate going for a walk and then having to come back along the same path. Much more satisfying to find a different way home.
Scamp was eager to get the front grass cut and she wanted the cutter raised on the mower. That change of height of only about 10mm made all the difference it seemed. She did the mowing, I did the strimming. It did look better when we were finished, even if I beheaded one of the daffs when I was strimming.
Tomorrow, Scamp is booked for a walk round St Mo's with Veronica. I might finally do some painting. I'll also need to have a look at the iMac which seemed to have a hissy fit tonight.