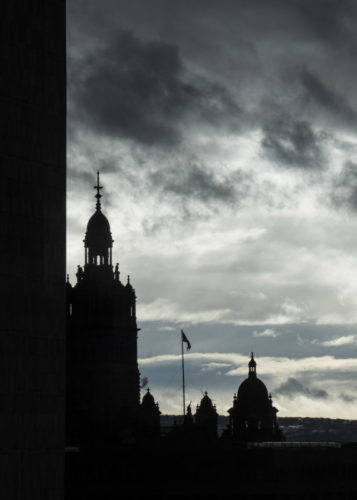 Wednesday has now become dancing day.
Today started with driving Scamp to her hospital appointment and surprise, surprise, there was a space in the car park for once. Sat with a coffee and a 2 for 1 doughnuts in the cafe reading my latest Hazy find, 'Sourdough'. You were right H, it's a great antidote to the heavy and sluggish 'Rotherweird' which was Rather to Weird for me. It's now languishing in the 'Maybe Later' folder on the Kindle. Sourdough is much lighter and funnier. Thanks again H.
Drove from there in to Glasgow just before lunch time to go to Waltz and Jive classes. Before the class we went for lunch at Paesano, and the No 3 (anchovy and olive) was as good as ever, as was Scamp's No 1 Sugo (no cheese) apparently. The only thing missing was a glass of red wine, but you can't have drive and wine in the same sentence. If you do, it could lead to a sentence of a different kind. Waltz was a bit of a problem for me with two left feet. You see, in Salsa the man always leads with his left foot. In Waltz, the man generally does so to, but occasionally he leads with his right, and that's where the problem comes in. My left foot KNOWS that it always leads, so that's what it does. Here's a quote from Robin Sloan's Sourdough:
When you walk, you look forward, not down at your feet, because you are confident they are where you expect them to be, obeying your commands. That's a pretty cool feature.
Well Mr Sloan, that may be true, but not if you're trying to dance Waltz with Salsa trained feet. It is not at all a 'cool feature.
The Jive was much better. I think we cracked it today. Well, most of it anyway.
Came home and then decided we'd go to the beginners salsa classes to give my left foot its head if you know what I mean.
Jamie G wasn't there so we were getting Will who is quite stylish an has the enviable skill of being able to dance as a guy or a girl. I'm sure Jamie G can do it too, but he doesn't offer to do it in class. Will had no problem with it, although some of the guys in the class found it a bit off putting to start with. Jamie returned in time for the second beginners class and it was fun as usual.
I did a quick selfie with a photo from PhotoBooth on the iMac. That worked in two ways:
1. No squinting in a mirror and trying to draw at the same time.
2. The screensaver kicks in after 5 minutes, so that gives me a timer.
So, one sketch in three sessions, i.e. 15 minutes. Not a bad likeness I'm told by Scamp, although I think the right eye (my left) is too big. Other than that it's not too bad.
Today's PoD was taken walking over the walkway between the carpark and JL in Glasgow and is a silhouette of the city centre architecture under a wild sky. I like it.
Tomorrow I'm booked for coffee with Fred and Val.