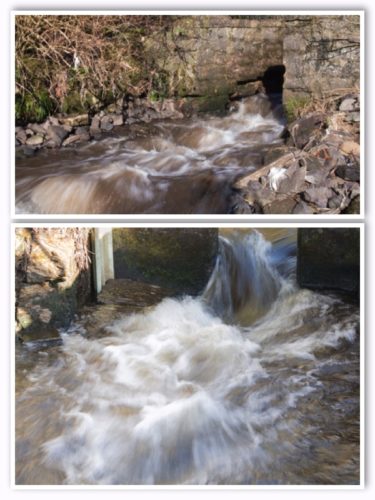 First things first, I was feeling a lot better when I got up this morning. That said, I didn't rise until about 11am!
The predicted snow didn't arrive here today, thankfully. After a restful night, I got up and got showered and made a plan for the day. Last week, I'd dropped my reading glasses in Arta the dark dingy hole we now dance in on occasional Sundays. I managed to avoid standing on them, but found I'd scratched one of the lenses, right in the middle. Sunday past, I dropped them on the path outside the house and luckily one of our neighbours found them and handed them in. Thanks Scott. Then that Sunday afternoon I dropped them on another dance floor in Paisley, scratching the other lens. Plan for the day was to take them to the optician in Larkhall and get them fixed.
Drove to Larky on a bright, very bright, sunny day and was told that I'd just missed the uplift, so the glasses would be back on Thursday after 1pm. Since Thursday afternoon is booked for coffee with Fred, I imagine it will be Friday before we are reunited. I can survive with a pair of 'readers' until then.
Instead of driving straight home, I took a fancy to a run down to Millheugh to see what was happening at the salmon ladder they were building. The answer was 'not a lot'. Work seemed to have stopped, and after talking to a bloke who seemed to be taking it upon himself to clean up the grassy area of Millheugh next to the Avon Water, there won't be anybody near the place until 'the better weather'. That means Easter at least. Stood talking to him for a while. Took some photos of the run off from the Lade that used to carry water to the Bleachfield Works, but now is just a silted up piece of slow running water that's being clogged by broken walls and tree roots. Another example of cooncils not caring enough to maintain things. No, it won't make a good photo opportunity for councillors in the local press, but it still needs to be done. The bloke said he was supposed to be meeting a councillor today, but he was late. "Yes," I thought, "extended lunch no doubt." We said cheerio and headed back home.
That was about the extent of our travels today. Nice to see Larky again, but sad to see houses going up everywhere. I suppose that's progress to some.
It's another house that became the subject of today's sketch. It's on Skye, but I couldn't tell you where. I found it on Google Street View a year or two ago. It's very grand and baronial with its little round tower. Somehow I don't think it was built by a local.
PoD was the bottom water shot from Millheugh.
Tomorrow it's Hospital for Scamp's appointment, followed by Waltz lesson and then Jive lesson, hopefully with the chance of a cup of coffee somewhere between the three. Maybe Salsa at night because we missed out on Monday's. Depends on the weather, although now doesn't seem to be in the forecast for tomorrow.